af Karsten Jørgensen
Det amerikanske country-rock/bluegrass-band The Nitty Gritty Dirt Band, som har eksisteret siden 1966, udsender den 20. maj albummet "Dirt Does Dylan", med 10 Bob Dylan-sange.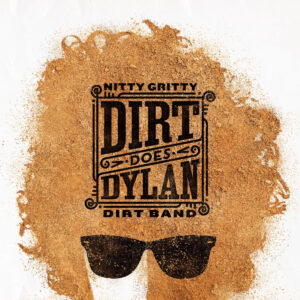 På albummet debuterer tre nye medlemmer af det hæderkronede orkester, som siden midten af 1960'erne har været aktivt under ledelse af Jeff Hanna.
De nye medlemmer er violinisten Ross Holmes, bassisten Jim Photoglo og guitaristen Jaime Hanna, som er søn af Jeff Hanna.
"Dirt Does Dylan" er produceret af Ray Kennedy i Nashville, og udover Jeff Hanna og de tre nye medlemmer, medvirker endnu to mangeårige medlemmer af The Nitty Gritty Dirt Band, Jimmie Fadden og Bob Carpenter.
"Bob Dylan var et oplagt valg, fordi hans sangbog har dybde", forklarer Jeff Hanna, som samtidig siger, at processen med at udvælge sangene var svær. "Vi er et band, og meget af Dylans materiale er meget personligt og ligger bedre for en solist". Og det betød, at der var et naturligt fravalg.
Blandt albummets ti sange, er sidste års velgørenhedssingle med "The Times They Are A-Changin'", som gruppen indspillede sammen med en stribe gæstemusikere som Steve Earle, Rosanne Cash, Matraca Berg (Jeff Hannas hustru) og mange andre.
På "I Shall Be Released" er der en gæsteoptræden af duoen Larkin Poe, mens gruppen selv står for både musik og sang på de øvrige otte sange.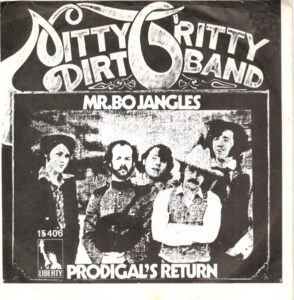 Den svenske udgave af singlen "Mr. Bojangles", 1971
Blandt The Nitty Gritty Dirt Bands mest kendte indspilninger er fortolkningen af Jerry Jeff Walkers "Mr. Bojangles" fra 1970, og albummet "Will The Circle Be Unbroken" fra 1972, som opnåede en fjerdeplads på hitlisten i USA.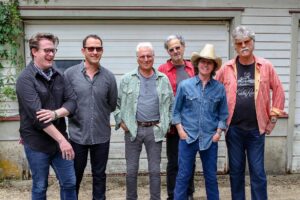 The Nitty Gritty Dirt Band
Trackliste for "Dirt Does Dylan":
1. Tonight I'll Be Staying Here with You
2. Girl from the North Country
3. It Takes a Lot to Laugh, It Takes a Train to Cry
4. Country Pie
5. I Shall Be Released (ft. Larkin Poe)
6. She Belongs to Me
7. Forever Young
8. The Times They Are A-Changin' (ft. Rosanne Cash, Jason Isbell, Steve Earle, and The War and Treaty)
9. Don't Think Twice, It's All Right
10. Quinn The Eskimo (The Mighty Quinn)