af Karsten Jørgensen
Sanger, guitarist og keyboardspiller Billy Hinsche, som havde en karriere i trioen Dino, Desi og Billy i 1960'erne og senere turnerede som menig musiker sammen med The Beach Boys, er død efter en kort sygdomsperiode med lungekræft, 70 år.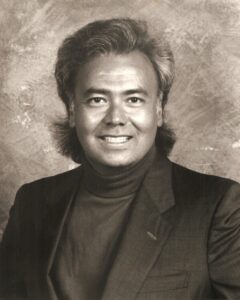 William Hinsche blev født i Manila på Filippinerne den 29. juni 1951, men flyttede som barn til Beverly Hills med sin familie, hvor han gik på Loyola High School.
Her mødte han to andre teenagere, Dean Paul Martin og Desi Arnaz Jr., som var drenge med berømte forældre – henholdsvis entertaineren Dean Martin og skuespillerparret Desi Arnaz og Lucille Ball.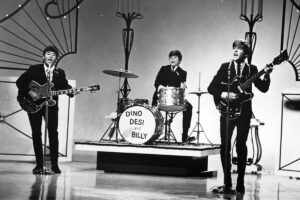 Dino, Desi & Billy – Billy Hinsche til venstre
Sammen dannede de trioen Dino, Desi & Billy, som med hjælp fra Frank Sinatra fik en kontrakt med pladeselskabet Reprise Records.
Singler som "Since You Broke My Heart", "I'm A Fool" og "Not The Lovin' Kind" i 1964 og 1965, var populære nok til at gøre trioen til teenageidoler, men succesen var desværre kortvarig, og allerede et par år senere var eventyret slut. Dino, Desi & Billy opløstes i 1969 og deres sidste single, "Lady Love", som var skrevet af Brian Wilson, blev udsendt i 1970.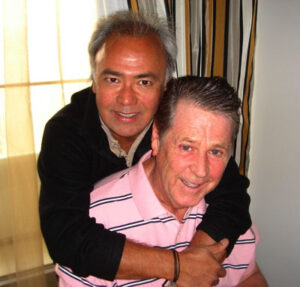 Billy Hinsche sammen med Brian Wilson
Billy Hinsches søster Annie blev gift med Beach Boys-guitaristen Carl Wilson, og fra begyndelsen af 1970'erne var Billy uofficiel medlem af The Beach Boys. Han turnerede med dem fra 1971 til 1977 og igen fra 1982 til 1996, og medvirkede på en stribe af deres LP'er, bl.a. "Holland", "15 Big Ones", "Love You", "M.I.U. Album", "L.A. (Light Album)" og "Keepin' The Summer Alive".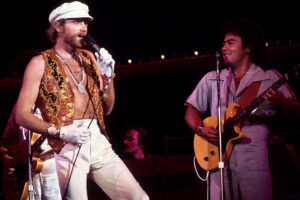 Billy på scenen sammen med Mike Love
Billy Hinsche virkede også som studiemusiker, og medvirkede på plader med både Elton John ("Don't Let The Sun Go Down On Me"), America, Joan Jett, Warren Zevon og andre.
Billy Hinsche døde den 20. november 2021.