af Karsten Jørgensen
Allerede i april annoncerede Neil Young, at han havde indspillet et nyt album med sin gamle backinggruppe Crazy Horse. Dengang havde pladen endnu ingen titel, men det varede ikke længe, før det blev bekendtgjort, at albummet skulle hedde "Pink Moon". Så gik der igen nogle måneder, og i august sagde Young, at titlen nu var ændret til "Colorado", fordi han imellemtiden havde opdaget, at en anden gruppe allerede havde udsendt et album med titlen "Pink Moon".
Albummet hedder stadig "Colorado" og udkommer på Reprise Records den 25. oktober 2019.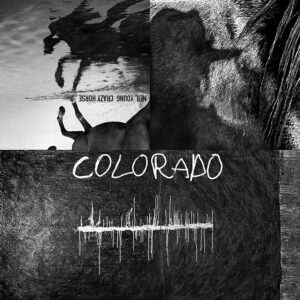 "Colorado", cd, design af Daryl Hannah
"Colorado" er Youngs 39. studiealbum og det første studiealbum med Crazy Horse siden det anmelderroste "Psychedelic Pill" fra 2012. Besætningen i Crazy Horse anno 2019 er Ralph Molina, trommer og vokal, Billy Talbot, bas og vokal, og Nils Lofgren, guitar og vokal.
Ralph Molina og Billy Talbot har arbejdet sammen med Neil Young siden "Everybody Knows This Is Nowhere" i 1969, og Nils Lofgren har været med, on and off, siden 1970 og albummet "After The Gold Rush". Tidligere medlem Frank Sampedro, som var en del af Crazy Horse siden 1975, trak sig ud af gruppen i 2014, af helbredsmæssige årsager.
Skarpsindige læsere vil bemærke, at Molina, Talbot og Lofgren er den samme grundbesætning af Crazy Horse, som gik under navnet The Santa Monica Flyers og indspillede albummet "Tonight's The Night" med Neil Young i 1973.
Det nye album, som indeholder ti nye sange, der varierer i længde fra 3 til mere end 13 minutter, blev indspillet på elleve dage i april i Studio In The Clouds i Telluride i Rocky Mountains, Colorado, og er produceret af Neil Young og John Hanlon. Det udkommer på både cd og dobbelt vinyl, sidstnævnte har en 7" singleplade vedlagt med to sange, som ikke er på albummet: "Rainbow Of Colors" (liveindspilning med Neil Young solo) og "Truth Kills" (studieindspilning med Young og Crazy Horse). Omslaget på pladen er designet af Neil Youngs kæreste, skuespilleren Daryl Hannah.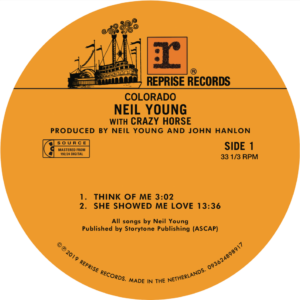 Samtidig med udgivelsen af "Colorado" udsender Neil Young en dokumentarfilm, "Mountaintop", instrueret af C.K. Vollick, om skabelsen af albummet. Filmen bliver vist i udvalgte biografer i USA, men kun én aften, den 22. oktober.
I september udsendte Neil Young endvidere bogen "To Feel The Music: A Songwriter's Mission To Save High Quality Audio" på BenBella Books. Bogen handler om Youngs ambition om, at give sine fans musik i den bedst mulige kvalitet, og om kampen mod, at de fleste musikbrugere idag downloader musik i mp3-filer, der, som Young skriver, "berøver sangene deres oprindelige varme".
Trackliste for "Colorado":
CD:
1 Think of Me
2 She Showed Me Love
3 Olden Days
4 Help Me Lose My Mind
5 Green Is Blue
6 Shut It Down
7 Milky Way
8 Eternity
9 Rainbow of Colors (studio version)
10 I Do
"Colorado" – 2 LP + 7″ vinyl edition:
Side 1
Think Of Me
She Showed Me Love
Side 2
Olden Days
Help Me Lose My Mind
Green Is Blue
Shut It Down
Side 3
Milky Way
Eternity
Rainbow Of Colors (studio version)
I Do
Side 4
Etched artwork
Bonus 7″ single, vedlagt vinylpladen:
1. Rainbow Of Colors (Solo – Live in Portland, May 17, 2019) – Neil Young
2. Truth Kills (Neil Young with Crazy Horse – studio)