af Karsten Jørgensen
Optagelserne til filmen "Midas Man", om Beatles-manageren Brian Epsteins opstigen fra almindelig forretningsmand i Liverpool til rollen som øverste ansvarlige i The Beatles' kometagtige berømmelse, blev sat på pause i midten af november, da instruktøren Jonas Akerlund trak sig fra projektet.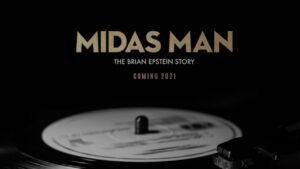 Akerlund blev derefter erstattet af Sara Sugarman, hvorefter optagelserne var planlagt til at blive genoptaget i slutningen af november, hvilket imidlertid ikke skete.
Nu er planen, at fortsætte indspilningen i Los Angeles sidst i januar. Imellemtiden er det oplyst, at Jacob Fortune-Lloyd i rollen som Brian Epstein, får følgeskab af tv-værten Jay Leno som den karismatiske Ed Sullivan, der introducerede The Beatles til USA i sit "Ed Sullivan Show", mens rollerne som John Lennon, Paul McCartney, George Harrison og Ringo Starr udfyldes af henholdsvis Jonah Lees, Blake Richardson, Leo Harvey Elledge og Campbell Wallace.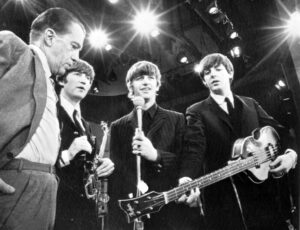 Ed Sullivan med John Lennon, Ringo Starr og Paul McCartney, 1964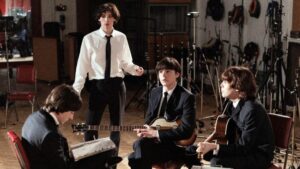 Scene fra "Midas Man"
"Midas Man" produceres i et samarbejde mellem StudioPow og Trevor Beattie Films. En premieredato er endnu ikke oplyst.