af Karsten Jørgensen
I anledning af 100-året for skabelsen af tegneseriefiguren Rupert Bear, som første gang blev vist i avisen Daily Express den 8. november 1920, genudsender Paul McCartney sin korte tegnefilm "Rupert and the Frog Song" og dens hitsingle "We All Stand Together" fra 1984, som opnåede at blive nr. 3 på den engelske hitliste.
"Jeg har altid elsket animation", siger Paul McCartney. "Det begyndte med Disney-filmene, og har vokset derfra. Som barn fik jeg altid det årlige Rupert Bear-hæfte til jul, og jeg fik ideen til en film, da jeg som voksen fandt et af dem igen".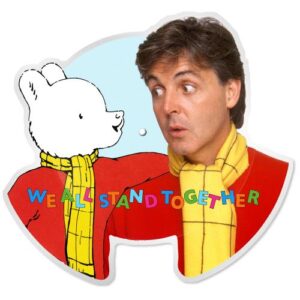 'We All Stand Together', 7″ single
Den restaurerede udgave af "Rupert and the Frog Song" og en remastered version af "We All Stand Together" udsendes, førstnævnte på YouTube og sidstnævnte på vinyl, den 6. november.
Sangen "We All Stand Together" blev oprindelig indspillet af Paul McCartney i november 1980, og årsagen til, at den ikke blev nr. 1 på hitlisten i 1984 var, at den blev fortrængt af to af århundredets store julesange, Band Aids "Do They Know It's Christmas" og Wham!s "Last Christmas", som besatte henholdsvis første- og andenpladsen.
Filmen "Rupert and the Frog Song" blev lavet i samarbejde med tegneren Geoff Dunbar, og modsat den anden film, McCartney udsendte i 1984, "Give My Regards To Broad Street", som var et flop, blev filmen med den lille bjørn og de syngende frøer en succes. Paul McCartney indkasserede både en Ivor Novello Award for Bedste Film Soundtrack og en BAFTA-pris for Bedste Animerede Kortfilm.