af Karsten Jørgensen
Elvis Presleys legendariske indspilninger i RCA's Studio B i Nashville fra 1970, som udkom på tre af Elvis' albums i 1970 og 1971, bliver nu samlet på en ny cd-boks med titlen "From Elvis In Nashville".
Indspilningerne, hvor Elvis fortolkede sange som "I've Lost You", "Funny How Time Slips Away" og "There Goes My Everything", blev oprindelig udsendt på pladerne "That's The Way It Is", 1970, "Elvis Country (I'm 10.000 Years Old)", 1971, og "Love Letters From Elvis", 1971. Mange af disse sange indgik i hans live-repertoire i resten af hans karriere, indtil Elvis døde i 1977.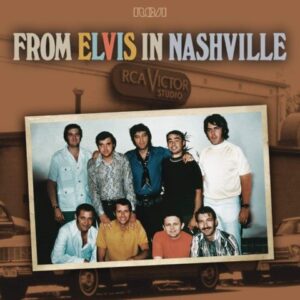 Henover fem dage i juni og én dag i september 1970, samledes "The Nashville Cats", studiemusikere, der bestod af multiinstrumentalisten Charlie McCoy, bassisten Norbert Putnam, pianisten David Briggs og guitaristerne James Burton og Eddie Hinton i Studie B, hvor de og Elvis indspillede mere end 40 sange i genrer fra bluegrass og country til rockabilly og moderne pop.
Nu samles alle sangene, plus adskillige alternative optagelser – 74 numre i alt – på bokssættet "From Elvis In Nashville", som udsendes af RCA/Legacy Recordings den 20. november. En skrabet udgave med højdepunkter, bestående af to vinylplader, udgives samtidig.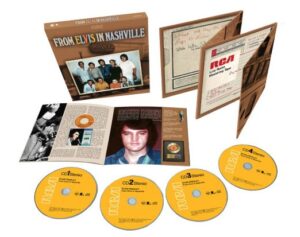 Trackliste:
CD 1
Opening Jam (Mystery Train)
Twenty Days And Twenty Nights
I've Lost You
I Was Born About Ten Thousand Years Ago
The Sound Of Your Cry
The Fool
A Hundred Years From Now
Little Cabin On The Hill
Cindy, Cindy
Bridge Over Troubled Water
How The Web Was Woven
Got My Mojo Working/ Keep Your Hands Off Of It
It's Your Baby, You Rock It
Stranger In The Crowd
I'll Never Know
Mary In The Morning
It Ain't No Big Thing (But It's Growing)
You Don't Have To Say You Love Me
Just Pretend
This Is Our Dance
Life
Heart of Rome
CD 2
When I'm Over You
I Really Don't Want To Know
Faded Love
Tomorrow Never Comes
The Next Step Is Love
Make The World Go Away)
Funny How Time Slips Away
I Washed My Hands In Muddy Water
Love Letters
There Goes My Everything
If I Were You
Only Believe
Sylvia
Patch It Up
Snowbird
Where Did They Go, Lord
Whole Lot-ta Shakin' Goin' On
Rags To Riches
CD 3
Jam 2 (Tiger Man)
I've Lost You – take 1
The Next Step Is Love – takes 3-6
You Don't Have To Say You Love Me – rehearsal
Patch It Up – take 1
Twenty Days And Twenty Nights – takes 5,6 & 8
How The Web Was Woven – take 1
Mary In The Morning – takes 3-4
Just Pretend – takes 1-2
Stranger In The Crowd – takes 1-5
Bridge Over Troubled Water – rehearsal, take 1
Patch It Up – take 9
The Sound Of Your Cry – take 3
Where Did They Go, Lord – takes 2-3
Rags To Riches – take 2
CD 4
Jam 3 (I Didn't Make It On Playing Guitar)
Faded Love – rehearsal (country version)
The Fool – take 1
A Hundred Years From Now – take 1
Little Cabin On The Hill – take 1
Tomorrow Never Comes – takes 10-11
Snowbird – take 1
Faded Love – take 3
It's Your Baby, You Rock It – take 3
There Goes My Everything – take 1
Love Letters – take 1
If I Were You– take 5
Heart Of Rome – take 1
Cindy, Cindy – take 1
I'll Never Know – take 3
Sylvia – take 9
It Ain't No Big Thing (But It's Growing) – takes 1-2
Only Believe – take 3
Life – take 2