af Karsten Jørgensen
Born to ride!
Sådan må Bruce Springsteen og Patti Scialfas datter, Jessica, føle det, efter hun og resten af det amerikanske hold i lørdags vandt sølvmedalje i ridebanespringning for hold ved de olympiske lege i Tokyo.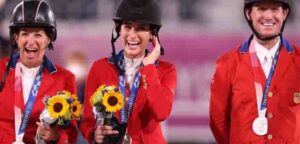 Jessica Springsteen – i midten – ved medaljeoverrækkelsen i Tokyo
Guldmedaljen gik til Sverige, der gennemførte banen fejlfrit, ligesom Jessicas hold, men med et minimalt forspring på mindre end to sekunder.
Tidligere i ugen havde Jessica også deltaget i individuel ridebanespringning, men kvalificerede sig ikke til finalen.
Efter sølvmedaljen var i hus, var Jessica Springsteen forståeligt i højt humør.
"Jeg er så taknemmelig for, at mine forældre har støttet mig gennem hele min karriere, og de har været med mig på denne rejse. Det er en stor drøm, der er gået i opfyldelse, også for dem, så jeg er bare så glad for, at jeg kan gøre dem stolte", sagde Jessica.
Jessica med sin berømte far
Legene i Tokyo er første gang den 29-årige Jessica Springsteen har deltaget ved et olympisk arrangement.