af Karsten Jørgensen
Der er tilsyneladende gået Rod Stewart i gode, gamle Bob Dylan, som allerede 31. marts udsender et nyt kapitel i sin albumserie med amerikanske sangklassikere fra før rockmusikkens indtog.
Efter "Shadows In The Night" og "Fallen Angels" i hhv. 2015 og 2016, kommer nu "Triplicate", et tre-dobbelt album, hvor Dylan fortolker 30 nye sange fra den amerikanske sangskat, primært fra 1930'erne og 1940'erne.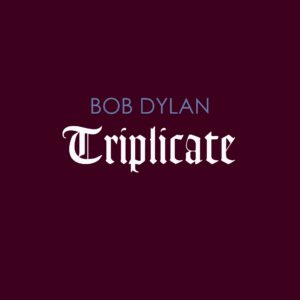 Det nye tre-dobbelte album udkommer 31. marts
Hver af de tre plader er inddelt tematisk og har egne titler – "'Til The Sun Goes Down", "Devil Dolls" og "Comin' Home Late" – men fælles for næsten alle sangene er, at de i tidernes morgen har været en del af Frank Sinatras repertoire.
Bob Dylan, som i december fik Nobel-prisen i litteratur, arbejder også på næste udgivelse i hans roste "Bootleg Series", og dette 13. værk fra arkiverne koncentrerer sig ifølge de foreløbige rygter om fraklip, outtakes og alternative versioner af sange fra hans tre nykristne albums fra 1979-1981 – "Slow Train Coming", "Saved" og "Shot Of Love".
Trackliste for "Triplicate":
CD 1 – "'Til the Sun Goes Down"
I Guess I'll Have to Change My Plans
September of My Years
I Could Have Told You
Once Upon a Time
Stormy Weather
This Nearly Was Mine
That Old Feeling
It Gets Lonely Early
My One and Only Love
Trade Winds
CD 2 – "Devil Dolls"
Braggin'
As Time Goes By
Imagination
How Deep Is the Ocean
PS I Love You
The Best Is Yet to Come
But Beautiful
Here's That Rainy Day
Where Is the One
There's a Flaw in My Flue
CD 3 – "Comin' Home Late"
Day In, Day Out
I Couldn't Sleep a Wink Last Night
Sentimental Journey
Somewhere Along the Way
When the World Was Young
These Foolish Things
You Go to My Head
Stardust
It's Funny to Everyone But Me
Why Was I Born?