af Karsten Jørgensen
Den 19. september kommer The Beatles' første pladekontrakt under hammeren på Heritage Auctions i New York, og det forventes at dokumentet vil indbringe mindst 150.000 dollar – en hel del mere end de 300 tyske d-mark pr. person, som The Beatles fik ved underskrivelsen i 1961.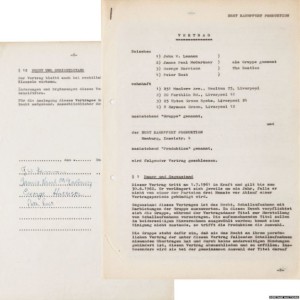 Kontrakten, som gruppen indgik med produceren Bert Kaempfert og Polydor Records i Tyskland, blev underskrevet i Hamborg i slutningen af maj eller begyndelsen af juni 1961, og førte til indspilninger som backinggruppe for den engelske sanger Tony Sheridan på sange som "My Bonnie" og "The Saints", samt "Ain't She Sweet" (med John Lennon på vokal) og instrumentalnummeret "Cry For A Shadow".
På det tidspunkt, i 1961, spillede The Beatles i natklubber i Hamborgs luderkvarter Reeperbahn, og bestod af John Lennon, Paul McCartney, George Harrison og trommeslageren Pete Best, som et år senere blev erstattet af Ringo Starr.
Da sangen "My Bonnie" blev udsendt på single i Tyskland i oktober 1961, var gruppen ikke krediteret som The Beatles, men derimod som The Beat Brothers, og selvom sangen ikke dengang blev et hit, fik den stor betydning ved at være den sang, som førte The Beatles direkte i armene på Brian Epstein, en lokal forretningsmand i Liverpool, som få måneder senere blev gruppens dynamiske manager.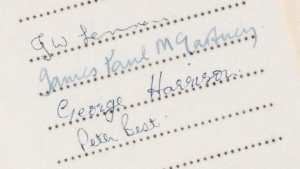 Den seks sider lange kontrakt, hvor John Lennon underskrev sig 'JW Lennon' og McCartney brugte sit fulde navn James Paul McCartney, er en del af en større privatsamling fra den tyske designer og Beatles-historiker Uwe Blaschke, som døde i 2010.
Ved auktionen på Heritage Auctions i september, kan interesserede også byde på et signeret eksemplar af The Beatles' første 'officielle' single, "Love Me Do", som vurderes til 10.000 dollar.