af Karsten Jørgensen
Der er ikke noget der er så skidt, at det ikke er godt for noget, og i disse coronatider, hvor gadebilledet ligger øde hen, har de britiske myndigheder fundet pensel og maling frem og har genopfrisket de legendariske zebrastriber i fodgængerovergangen på Abbey Road i London-forstaden St. John's Wood.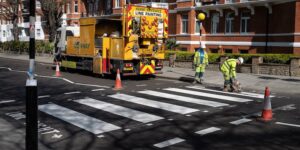 Tirsdag i sidste uge mødte et hold fra byens vejtekniske afdeling op udenfor det berømte pladestudie på Abbey Road, hvor The Beatles indspillede næsten alle deres plader, og i løbet af et par timer var striberne lige så fine, som de var for næsten 51 år siden, da det ikoniske billede til omslaget på albummet "Abbey Road" blev taget.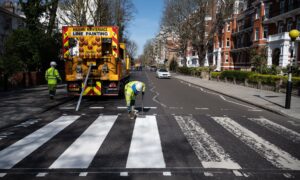 I dag er det i øvrigt præcis 50 år siden, at The Beatles gik i opløsning, med Paul McCartneys meddelelse om, at han forlod gruppen.