af Karsten Jørgensen
Neil Young, som sidste år lovede sine fans, at han endelig ville udsende det uudgivne album "Homegrown" fra 1975, har nu offentliggjort detaljer om endnu et 'arkiv-album'.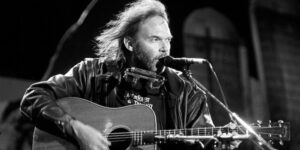 Den nye plade får titlen "Road Of Plenty" og består af indspilninger fra sidste halvdel af 1980'erne, dels med Crazy Horse fra 1986 og dels med The Bluenotes fra 1989.
Titelsangen "Road Of Plenty" er en tidlig version fra 1986 af den sang, som senere udkom på albummet "Freedom" under titlen "Eldorado".
Andre sange er bl.a. en 17 minutter lang udgave af "60-0" (i bund og grund "Crime In The City" med en anden tekst), indspillet med The Bluenotes, og den oprindelige studieoptagelse af "Fuckin' Up".
Den foreløbige release-kalender for Neil Youngs arkivudgivelser ser, ifølge hans hjemmeside, sådan ud:
"Homegrown" udkommer 19. juni,
"Return To Greendale", 17. juli,
"The Neil Young Archives Vol. 2", 21. august,
"Rust Bucket" (liveoptagelser med Crazy Horse), 16. oktober,
"Young Shakespeare" (solo liveoptagelser), 27. november,
mens der endnu ikke er en dato for "Road Of Plenty", som forventes på gaden i løbet af 2021.