af Karsten Jørgensen
Bag alle store kunstnere, sidder der ofte et hold af praktiske grise, som hjælper med at få kreativiteten ud til et større publikum og, i sidste ende, berømmelse og rigdom.
En sådan praktisk gris var forretningsmanden Brian Epstein, der tidligt spottede potentialet i de ukendte The Beatles og blev deres manager i 1961. Det førte bl.a. til en kontrakt med pladeselskabet Parlophone, og sidenhen ved alle hvordan det gik.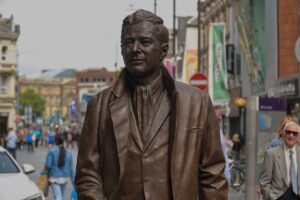 Brian Epstein i bronze
På 55-årsdagen for Brian Epsteins død i 1967, den 27. august, blev der i Liverpool afsløret en næsten to meter høj bronze-statue af den berømte manager. Tilstede var flere hundrede mennesker, som sang Beatles-sange.
Statuen er opsat på bjørnet af Button Street og Whitechapel, ikke langt fra stedet, hvor Epstein havde sin NEMS-pladeforretning, og viser Epstein med en pladekontrakt i hånden, på vej hen mod The Cavern – klubben, hvor han første gang så og opdagede The Beatles i november 1961.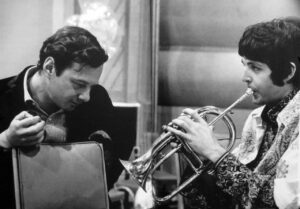 Brian Epstein i pladestudiet med Paul McCartney, 1967
Financieringen af statuen kommer fra organisationen Brian Epstein Legacy Projekt, som gennem et par år har indsamlet donationer til projektet, og en talsmand, Tommy Calderbank, sagde i forbindelse med afsløringen af statuen:
"Det er altid let nok at hylde folkene i rampelyset, men meget sværere at hylde de mennesker, som arbejder bag scenen".
Statuen er udført af skulptøren Andy Edwards og Jane Robbins, som er Paul McCartneys kusine.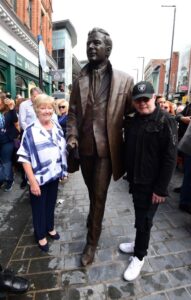 Skulptør Andy Edwards og Gerry Marsdens enke ved afsløringen