af Karsten Jørgensen
John Lennons mors hus på Blomfield Road i Liverpool-bydelen Allerton, blev mandag solgt via en online-auktion for 279.500 £.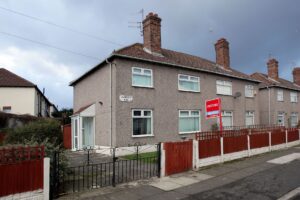 Huset på Blomfield Road
I huset, som Lennons tante Mimi døbte 'Syndens Hus', boede Johns mor Julia Lennon sammen med sin nye ægtemand John 'Bobby' Dykins og parrets to døtre, Julia Baird og Jacqueline Dykins, som således var John Lennons halvsøstre.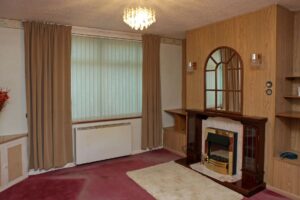 Dagligstuen
John Lennon selv boede aldrig sammen med sin mor på Blomfield Road, men kom der ofte som teenager og øvede med sin skifflegruppe The Quarrymen, hvis øvrige medlemmer bl.a. talte Paul McCartney og George Harrison.
Julia Lennon boede i huset efter bruddet fra Johns far Alfred i slutningen af 1940'erne og indtil 1958, hvor hun omkom ved en trafikulykke.
John Lennon med sin mor Julia
Online-auktionen foregik gennem firmaet Omega Auctions, som ikke har oplyst hvem køberen er.