af Karsten Jørgensen
Den 11. november udsender Bruce Springsteen et nyt album, "Only The Strong Survive", som består af 15 kopiversioner af soulsange fra 1960'erne og frem til 1980'erne, som overvejende blev udsendt på pladeselskaberne Motown og Stax.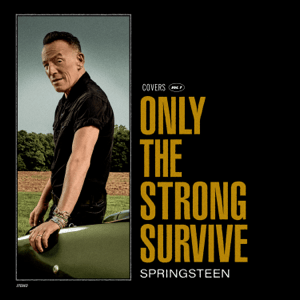 Blandt sangene på albummet er titelnummeret, oprindelig indspillet i 1969 af Jerry Butler, The Temptations' "I Wish It Would Rain", Diana Ross & The Supremes' "Someday We'll Be Together" og "The Sun Ain't Gonna Shine Anymore", som var et stort hit for The Walker Brothers i 1966.
"Jeg ville lave et album, hvor jeg kun skulle synge", siger Springsteen, "og hvor finder man bedre musik, end i den store amerikanske sangbog fra tresserne og halvfjerserne?"
"Mit mål er, at få et nyt, yngre publikum til at mærke den skønhed og glæde, som jeg følte, første gang jeg hørte den musik".
"Only The Strong Survive", som er Bruce Springsteens 21. studiealbum og det første siden "Letter To You" i 2020, er produceret af Ron Aniello, og har gæstevokaler på to sange af Sam Moore, plus korstemmer af Soozie Tyrell, Lisa Lowell, Michelle Moore, Curtis King Jr., Dennis Collins og Fonzi Thornton.
På omslaget af albummet står der 'Covers Volume 1', hvilket indikerer, at flere plader af samme slags kan være på vej.
Trackliste til "Only The Strong Survive", med de oprindelige kunstnere i parentes:
1. Only the Strong Survive (Jerry Butler)
2. Soul Days feat. Sam Moore (Dobie Gray)
3. Nightshift (The Commodores)
4. Do I Love You (Indeed I Do) (Frank Wilson)
5. The Sun Ain't Gonna Shine Anymore (The Walker Brothers)
6. Turn Back the Hands of Time (Tyrone Davis)
7. When She Was My Girl (The Four Tops)
8. Hey, Western Union Man (Jerry Butler)
9. I Wish It Would Rain (The Temptations)
10. Don't Play That Song (Aretha Franklin)
11. Any Other Way (Jackie Shane)
12. I Forgot to Be Your Lover feat. Sam Moore (William Bell)
13. 7 Rooms of Gloom (The Four Tops)
14. What Becomes of the Brokenhearted (Jimmy Ruffin)
15. Someday We'll Be Together (Diana Ross and the Supremes)