af Karsten Jørgensen
Sidste år var John Lennon aktuel med cd-bokssættet "Imagine – The Ultimate Collection", samt dvd/blu-ray versioner af to dokumentarfilm om skabelsen af "Imagine" – den første hed blot "Imagine" og udkom oprindelig i 1972, mens den anden, "Gimme Some Truth", udsendtes 28 år senere, i 2000.
Nu kommer der endnu en film om John Lennon, Yoko Ono og "Imagine" med titlen "Above Us Only Sky". Filmen blev oprindelig vist på betalings-kanaler, og selvom den genbruger adskillige klip fra de to førnævnte film, er der også nye, hidtil uudgivne scener, samt nye interviews med en række nøglepersoner.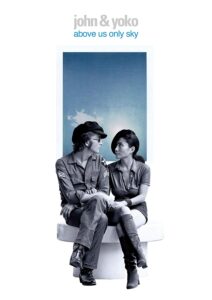 'Above Us Only Sky' – cover
"Above Us Only Sky" er blevet til i samarbejde med Yoko Ono og viser nye interviews med bl.a. galleriejeren John Dunbar, som arrangerede Yokos første kunstudstilling i Indica Gallery i London i 1966, hvor John og Yoko mødtes første gang. Andre interviewede er Lennon-parrets daværende personlige assistent Dan Richter og studiedesigneren Eddie Veale, som byggede Lennons hjemmestudie på landstedet Tittenhurst Park i Berkshire, hvor "Imagine" blev indspillet.
Musikerne Klaus Voormann, Alan White og Jim Keltner, der alle medvirkede på "Imagine", har også bidraget med nye interviews til filmen, som er instrueret af Michael Epstein. Den varer i 90 minutter og udsendes på både dvd og blu-ray af Eagle Vision den 13. september.