af Karsten Jørgensen
Guitaristen Nicky Wonder, som dannede gruppen The Wondermints og i mange år spillede i Brian Wilsons backinggruppe, er død, kun 59 år.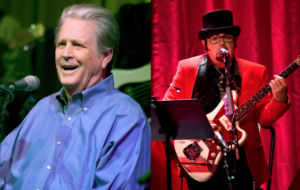 Brian Wilson og Nick Walusko
"Det er med stor sorg, at jeg må meddele, at vores elskede Nicky Wonder døde sidste nat, mens han sov", skrev Wilson på sin hjemmeside onsdag. "Som I sikkert kan forstå, er vi stadig i chok".
Nicky blev født Nick Walusko den 22. maj 1960, og dannede i 1992 gruppen The Wondermints sammen med Darian Sahanaja. Begge var de store fans af Brian Wilson, som de senere mødte ved en velgørenhedskoncert i Los Angeles, og det førte til, at Brian Wilson i 1999 turnerede med The Wondermints som backing.
I 2004 medvirkede gruppen på Wilsons indspilning af det legendariske "Smile"-projekt, og Nick var derefter fast guitarist på Wilsons soloplader "Gettin' In Over My Head", 2004, "That Lucky Old Sun", 2008, "Brian Wilson Reimagines Gershwin", 2010, "In The Key Of Disney", 2011, og "No Pier Pressure", 2015.
Nicky Wonder medvirkede også på The Beach Boys' genforeningsalbum "That's Why God Made The Radio" i 2012.
"Nicky var min yndlingsguitarist, og jeg har altid elsket den måde, han kunne bruge sine fingre på instrumentet", skrev Brian Wilson om musikeren, som døde den 6. august.