af Karsten Jørgensen
Efter rygter i flere uger har cirkuleret i medierne, er det nu officielt, at The Beatles' legendariske album "Sgt. Pepper's Lonely Hearts Club Band" udkommer i en række forskellige udgaver i anledning af værkets forestående 50 års jubilæum.
Udgivelsesdagen for alle variationer er den 26. maj (det originale album udkom 1. juni 1967), og foreløbig er pladen planlagt som en speciel Super Deluxe Edition (6 cd'er), en dobbelt-cd, et dobbelt-vinylalbum samt en enkelt cd.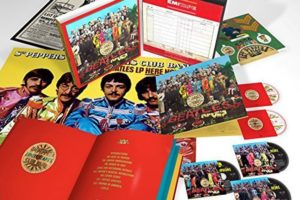 Super Deluxe udgaven, 6 cd'er
Detaljerne om indholdet er endnu sparsomme, men det skulle ligge fast, at de oprindelige 13 sange bliver suppleret med dobbelt-singlen "Strawberry Fields Forever" og "Penny Lane", som var tænkt som en del af det oprindelige "Sgt. Pepper"-koncept. Hvor mange outtakes og alternative versioner der endnu ligger i arkiverne er uvist, idet adskillige blev brugt til "Anthology"-projektet for mere end tyve år siden.
Det formodes, at Giles Martin – søn af den legendariske Beatles-producer George Martin – har stået for det tekniske bag den nye udgivelse. Giles' kredit i Beatles-regi er efterhånden omfattende, idet han arbejdede med sin far på Cirque du Soleil-projektet "Love" og senere var ophavsmand til den remasterede version af "Live At The Hollywood Bowl" i 2016. Endvidere har han arbejdet på George Harrison-dokumentarfilmen "Living In The Material World" og producerede flere sange på Paul McCartneys seneste studiealbum "New" fra 2013.