af Karsten Jørgensen
Mange har gennem årene spekuleret over, hvem kvinden i baggrunden på omslaget til Bob Dylans "Bringing It All Back Home" egentlig var. Var hun Dylans hustru Sara Lownds? Eller var hun én af hans mange øvrige kvindebekendtskaber?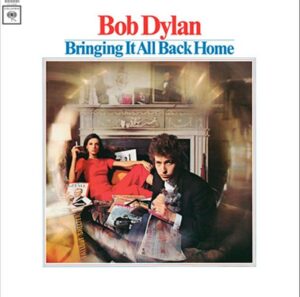 Coveret til "Bringing It All Back Home"
Faktisk hed kvinden i rødt Sally Grossman, og var gift med Dylans daværende manager, Albert Grossman. Og nu er hun død, 81 år gammel.
Hun blev født Sally Ann Buehler på Manhattan den 22. august 1939 og forlod skolen uden en eksamen. Efter en kort karriere som flystewardesse og fotomodel, begyndte hun i begyndelsen af 1960'erne at arbejde som servitrice i flere musikklubber i New York – Cafe Wha? og The Bitter End.
Og det var her hun mødte Albert Grossman, som hun blev gift med i 1964. Parret købte et hus i Bearsville, et område i byen Woodstock, to timers kørsel fra New York City, og herfra drev Albert sin virksomhed som manager for navne som Dylan, Janis Joplin, The Band, Peter, Paul & Mary, Odetta og Gordon Lightfoot.
Albert Grossman og Bob Dylan, 1965
Det ikoniske billede på omslaget til "Bringing It All Back Home", der udkom i marts 1965, blev taget af fotografen Daniel Kramer, i Grossman-parrets hus i Woodstock. Bag Dylan, som sidder i forgrunden med parrets kat, Rolling Stone, på skødet, omgivet af pladeomslag, bøger og magasiner, sidder Sally Grossman, som var 25 år, henslægt i en sofa i sin berømte røde kjole, foran kaminen i husets dagligstue. "Jeg tror aldrig jeg har haft den på siden dengang", fortalte hun i august 1996 til magasinet Mojo, "men det er da fantastisk, at den er på et pladeomslag, som folk stadig husker tredive år senere".
I mange år gik der hårdnakkede rygter om, at kvinden i rødt på pladeomslaget i virkeligheden var Dylan selv i kvindetøj, og at det skulle illustrere den feminine side af hans personlighed.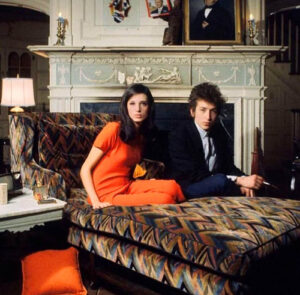 Alternativ foto fra "Bringing It All Back Home"
Ifølge flere Dylan-biografier var det Sally Grossman, der præsenterede Bob Dylan for hans senere hustru Sara Lownds, som var én af Sallys veninder.
Efter Albert Grossman i januar 1986 døde af hjertestop ombord på en flyvemaskine mellem USA og Europa, overtog Sally driften af både hans pladeselskab, Bearsville Records, samt to lokale restauranter. Hun renoverede laden på ejendommen og omdannede den til et teater, Bearsville Theater, i 1989, men afhændede hele forretningsimperiet i 2004.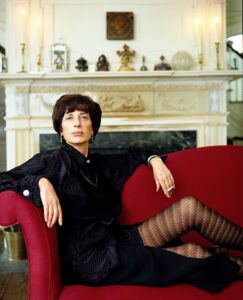 Sally Grossman foran kaminen i huset i Woodstock, 1996
Sally Grossman døde natten mellem den 10. og 11. marts 2021 i sit hjem i Woodstock. Dødsårsagen er ikke kendt.