af Karsten Jørgensen
Den 26. februar udsender Neil Young en liveoptagelse fra 1990, "Way Down In The Rust Bucket", hvor han bakkes op af gruppen Crazy Horse.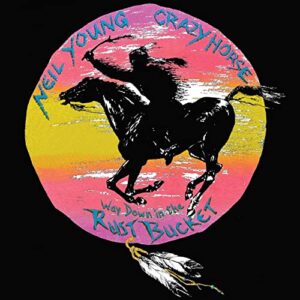 Vinyludgaven af "Way Down In The Rust Bucket"
Den 13. november 1990 spillede Young og Crazy Horse i The Catalyst, en lille bar i Santa Cruz, Californien, umiddelbart efter udgivelsen af albummet "Ragged Glory", og koncerten, der bestod af 20 sange og varede mere end tre timer, var et opvarmningsshow før den egentlige turne begyndte.
"Way Down In The Rust Bucket" udsendes som både dobbelt-cd, fire-dobbelt vinyl-LP og film på DVD. Filmen er instrueret af L.A. Johnson og indeholder bl.a. en 13 minutter lang version af "Cowgirl In The Sand", som ikke er med på hverken cd- eller vinyludgaverne.
Omslagene på cd- og vinyludgaven, som udgives af Reprise/Warner Records, er forskellige.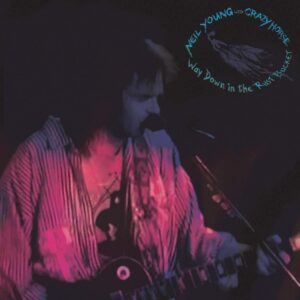 Cd-udgaven af "Way Down In The Rust Bucket"
Trackliste for Neil Young og Crazy Horse, 'Way Down In The Rust Bucket':
1. "Country Home"
2. "Surfer Joe and Moe the Sleaze"
3. "Love to Burn"
4. "Days That Used to Be"
5. "Bite the Bullet"
6. "Cinnamon Girl"
7. "Farmer John"
8. "Cowgirl in the Sand"*
9. "Over and Over"
10. "Danger Bird"
11. "Don't Cry No Tears"
12. "Sedan Delivery"
13. "Roll Another Number (For the Road)"
14. "Fuckin' Up"
15. "T-Bone"
16. "Homegrown"
17. "Mansion on the Hill"
18. "Like a Hurricane"
19. "Love and Only Love"
20. "Cortez the Killer"
* kun på DVD