af Karsten Jørgensen
Showet "Springsteen On Broadway", som har spillet for fulde huse fem dage om ugen på Walter Kerr Theatre i New York siden oktober 2017, slutter ifølge planen den 15. december. Dette show, som introducerede en helt ny form for koncertoptræden, var samtidig et skridt tilbage til en mere intim atmosfære mellem kunstner og publikum. Og mange af 'Bossen's fans gør sig nu tanker om, hvad Bruce Springsteens næste træk bliver.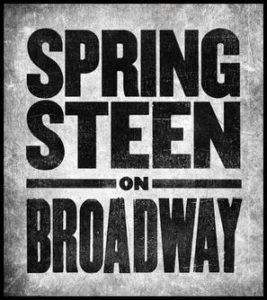 En ny video, som produceren Ron Aniello har lagt på Instagram, kan være et fingerpeg. Ron Aniello producerede de to seneste plader med Bruce Springsteen og The E Street Band, "Wrecking Ball" i 2012 og "High Hopes" i 2014, og videoen, som angiveligt er optaget i Bruces studie Colts Neck i New Jersey, viser E Street Band-trommeslageren Max Weinberg i aktion, hvilket kan indikere, at Bruce og hans band – måske – er i færd med at indspille et nyt album.
I november sidste år fortalte Bruce til magasinet Variety, at han arbejdede på et soloalbum, der musikalsk skulle være inspireret af 70'er-pop fra det sydlige Californien og navne som Glen Campbell, Jimmy Webb og Burt Bacharach. Siden har han dog ikke omtalt dette projekt, og spørgsmålet er nu, om klippet på Instagram skal tolkes som en teaser for, at Bruce i stedet arbejder på et nyt album med The E Street Band.
Andre muligheder kunne være relateret til fru Springsteen, Patti Scialfa, som arbejder på sit eget album (og sikkert også sammen med både Aniello og Weinberg), eller et efter sigende planlagt boks-sæt, med musikken fra "Nebraska"/"Born In The U.S.A."