af Karsten Jørgensen
På trods af, at Neil Young for kun få uger siden fyldte 72, er der stadig ingen tegn på, at han har tænkt sig at sætte tempoet ned. I hvert fald ikke på pladefronten.
I morgen, den 1. december, udsender han et nyt studiealbum, "The Visitor", hvor han igen akkompagneres af Promise Of The Real, gruppen han også allierede sig med på "The Monsanto Years" i 2015.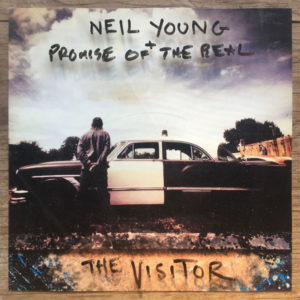 Det nye album indeholder ti sange, og den første single, "Already Great", er en kommentar til præsident Donald Trumps slogan under valgkampen i 2016 – "Make America Great Again". Og det er næppe nogen hemmelighed, at Neil Young ikke støtter Trump – noget han demonstrerede, da han forbød Trump at bruge sin sang "Rockin' In The Free World" ved valgmøderne.
Trackliste for "The Visitor":
"Already Great"
"Fly By Night Deal"
"Almost Always"
"Stand Tall"
"Change of Heart"
"Carnival"
"Diggin' a Hole"
"Children of Destiny"
"When Bad Got Good"
"Forever"