af Karsten Jørgensen
Mellem 1974 og 1977 indspillede Neil Young et dusin sange, som han i 1977 planlagde at udsende på albummet "Chrome Dreams".
Imidlertid besluttede Young ikke at udgive "Chrome Dreams", og i stedet udsendte han et andet album, "American Stars'n'Bars", samme år.
Derefter blev den oprindelige "Chrome Dreams" føjet til den efterhånden lange liste over LP'er med Neil Young, som er blevet skrinlagt – sammen med andre titler fra samme periode, som "Homegrown" og "Hitchhiker", der de seneste år endelig har set dagens lys på officielle udgivelser.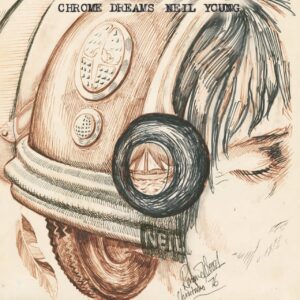 Den 11. august udsender Neil Young så "Chrome Dreams" i sin oprindelige form, men fans af Young vil dog være bekendt med albummets tolv sange, der alle har været udsendt tidligere, flere i alternative udgaver, på andre Neil Young-LP'er.
"Hold Back The Tears", "Homegrown", "Will To Love", "Star of Bethlehem" og "Like A Hurricane" udkom på "American Stars'n'Bars" i 1977, "Look Out For My Love" på "Comes A Time" i 1978 og "Pocahontas", "Powderfinger" og "Sedan Delivery" på "Rust Never Sleeps" i 1979. "Captain Kennedy" var med på "Hawks And Doves", 1980, "Too Far Gone" på "Freedom" i 1989, mens "Stringman" udkom på bokssættet "Neil Young Archives Vol. II, 1972-76" i 2020.
Der er således ikke rigtig noget nyt på "Chrome Dreams", der udkommer som både cd og dobbelt vinylalbum via Reprise Records, med et tegnet billede på omslaget af Rolling Stones-guitaristen Ronnie Wood.
Trackliste til "Chrome Dreams":
Pocahontas
Will To Love
Star Of Bethlehem
Like A Hurricane
Too Far Gone
Hold Back The Tears
Homegrown
Captain Kennedy
Stringman
Sedan Delivery
Powderfinger
Look Out For My Love