af Karsten Jørgensen
En notesbog, som oprindelig har tilhørt The Beatles' road-manager Mal Evans, er fra den 22. februar udstillet på museet The Beatles Story i Liverpool.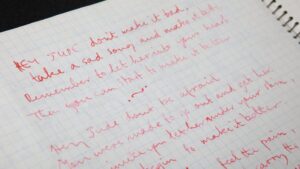 Fra notesbogen
Notesbogen, som er fra 1967-68, indeholder bl.a. Paul McCartneys håndskrevne tekst til "Hey Jude", plus dele af tekster fra andre Beatles-sange som "Sgt. Pepper's Lonely Hearts Club Band", "Being For The Benefit of Mr. Kite", "Good Morning, Good Morning" og "All Together Now".
Notesbogen er, ifølge Beatles-specialisten Stephen Maycock, "et fascinerende indblik i The Beatles' kreative proces", og blev solgt på auktion i 1998 af Mals enke, Lily Evans. Den blev købt af forretningsmanden Alan Murphy, som gav den til sin datter Davinia til hendes 21-års fødselsdag. Nu har Davinia doneret bogen til The Beatles Story.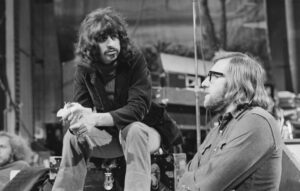 Mal Evans, til højre, med Ringo Starr
Mal Evans var The Beatles' road-manager helt tilbage i gruppens tidligste dage før berømmelsen, og var i resten af The Beatles' levetid indtil opløsningen i 1970 med i inderkredsen omkring de fire medlemmer.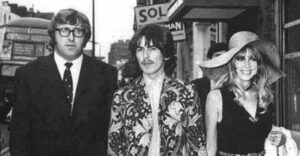 Mal Evans, til venstre, med George Harrison og Pattie Boyd
Efter gruppens opløsning flyttede Mal Evans til Los Angeles, hvor han i 1976 blev skudt af politiet.
En biografi om Mal Evans, skrevet af Kenneth Womack, er planlagt til udgivelse af forlaget HarperCollins i 2023.