af Karsten Jørgensen
Efter rygter tidligere på ugen om, at både Paul McCartney og Ringo Starr skulle medvirke på det kommende album med The Rolling Stones, har en talsmand for bandet nu præciseret, at kun McCartney deltager i projektet – som bassist på én sang.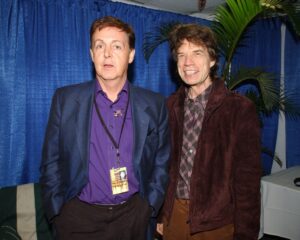 Paul McCartney og Mick Jagger backstage ved The Concert for New York, 2001
Albummet, som endnu ikke har hverken titel eller udgivelsesdato, er The Rolling Stones' 31. studiealbum, og har været undervejs i en længere årrække. Bandets seneste album med nyskrevne sange var helt tilbage til "A Bigger Bang" i 2005, men det sidste studieindspillede album var "Blue & Lonesome" i 2016, som bestod af lutter coversange af gamle bluesnumre.
Talsmanden for The Rolling Stones sagde, at Paul McCartney mødtes med Mick Jagger og Keith Richards i et pladestudie i Los Angeles, og spillede basguitar på et allerede færdiggjort nummer.
Paul McCartneys gamle band, The Beatles, og The Rolling Stones var både venner og rivaler gennem 1960'erne. The Rolling Stones' første hit, "I Wanna Be Your Man", var skrevet af John Lennon og Paul McCartney, og senere medvirkede de to gruppers medlemmer sporadisk på hinandens pladeudgivelser. Lennon og McCartney sang baggrundskor på Stones-singlen "We Love You", mens Jagger og Richards gjorde det samme på Beatles-singlen "All You Need Is Love". Endvidere spillede Stones-medlemmet Brian Jones saxofon på Beatles-sangen "You Know My Name (Look Up The Number)", en obskur komposition, som blev indspillet i 1967, men først udsendt som B-side på singlen "Let It Be" i 1970.