af Karsten Jørgensen
Bruce Springsteen og hans one-man-show "Springsteen On Broadway", som trak fulde hus på Broadway i mere end et år, vender nu tilbage i en begrænset periode.
Med en åbningsdato den 26. juni i St. James Theatre, er den foreløbige plan at fortsætte indtil den 4. september.
"Jeg elskede at lave 'Springsteen On Broadway', og jeg er glad for at blive spurgt om at genoplive showet i forbindelse med genåbningen af Broadway", siger Springsteen.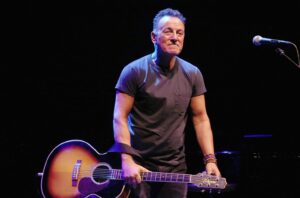 Ved premieren på 'Springsteen On Broadway' i Walter Kerr Theatre, 12. oktober 2017
"Springsteen On Broadway" blev opført første gang i oktober 2017, og strækket blev forlænget hele tre gange, indtil showet lukkede den 15. december 2018. Senere udkom det på både cd og som film på Netflix.
Showet består af 15 sange – bl.a. "Born In The U.S.A." og "Thunder Road" – og er krydret med historier og anekdoter, som overvejende er hentet fra Springsteens selvbiografi "Born To Run".
Billetter sættes til salg torsdag 10. juni, og publikum vil blive afkrævet dokumentation for, at de er blevet vaccineret mod COVID-19.