af Karsten Jørgensen
Ved en afstemning blandt læserne af magasinet USA Today, er Elvis Presleys tidligere bolig Graceland blevet valgt som verdens bedste musikattraktion.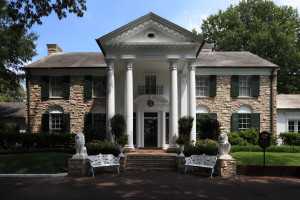 Graceland i Memphis
Graceland ligger i Memphis, Tennessee, og netop staten Tennessee er fyldigt repræsenteret blandt de ti øverste attraktioner på listen. Sun Studio, også i Memphis, hvor Elvis indspillede sine første plader, er nr. 2. Countrymusikkens højborg Grand Ole Opry i Nashville er nr. 4, Stax Museum i Memphis er nr. 5, og Dolly Partons forlystelsespark Dollywood er nr. 6.
Andre attraktioner blandt de ti øverste er Rock And Roll Hall Of Fame Museum i Cleveland, som nr. 3, Motown Museum i Detroit nr. 7, og længere nede på listen finder man Abbey Road Studios i London og kirkegården Pere Lachaise (hvor bl.a. Jim Morrison og Edith Piaf ligger begravet) i Paris.
Ejeren af Graceland, Elvis Presley Enterprises Inc., er naturligvis begejstret for hæderen, og direktøren Jack Soden siger: – Det bekræfter blot, hvad vores gæster fra hele verden har fortalt os i årevis – at Graceland er et 'must', ikke alene for Elvis-fans, men for alle, som sætter pris på musik og historie.
Graceland har som ejendom eksisteret siden 1800-tallet. Den nuværende paladsagtige bygning blev opført i 1939, og Elvis Presley boede på Graceland fra 1957 til sin død i august 1977. Siden juni 1982 har en del af Graceland været åbent for offentligheden, og med sine mere end 600.000 årlige besøgende er det den næstmest besøgte attraktion i USA – efter Det Hvide Hus.