af Karsten Jørgensen
Rygterne har svirret hele sommeren og nu er de endelig bekræftet: Bruce Springsteen har indspillet et nyt album, som udkommer på Columbia Records den 23. oktober.
Albummet, med titlen "Letter To You", blev ifølge Bruce indspillet i løbet af kun fem dage i hans hjemmestudie i New Jersey, og indeholder i alt 12 sange.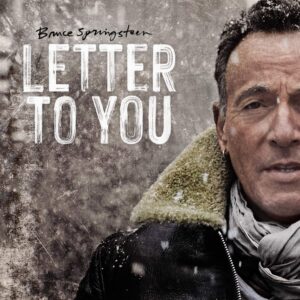 Heraf er de ni nye, mens tre er nyindspilninger af sange, som Springsteen skrev tilbage i begyndelsen af 1970'erne, før han havde udgivet sit debutalbum, "Greetings From Asbury Park, N.J.", i 1973.
De tre sange – "Janey Needs A Shooter", "If I Was The Priest" og "Song For Orphans" – er dog ikke ukendte for hardcore-fans, idet de i årtier har været tilgængelige på piratplader, såkaldte 'bootlegs'.
På "Letter To You" akkompagneres Springsteen af hele The E Street Band: Roy Bittan, Nils Lofgren, Patti Scialfa, Gary Tallent, Steve Van Zandt, Max Weinberg, Charlie Giordano og Jake Clemons, nevø af afdøde saxofonist Clarence Clemons.
Springsteens seneste album var "Western Stars", som udkom i juni 2019. Men det nye album er hans første sammen med The E Street Band siden "High Hopes" i 2014 og hans første optræden med gruppen siden "The River"-turneen i 2016.
"Letter To You" er produceret af Bruce Springsteen i samarbejde med Ron Aniello.
Trackliste:
1. "One Minute You're Here"
2. "Letter To You"
3. "Burnin' Train"
4. "Janey Needs A Shooter"
5. "Last Man Standing"
6. "The Power Of Prayer"
7. "House Of A Thousand Guitars"
8. "Rainmaker"
9. "If I Was The Priest"
10. "Ghosts"
11. "Song For Orphans"
12. "I'll See You In My Dreams"