af Karsten Jørgensen
Den engelske journalist og forfatter Tony Barrow, som var The Beatles' pressechef fra 1963 til 1968 og opfandt udtrykket "The Fab Four", er død på et hospital i Lancaster, tre dage efter sin 80 års fødselsdag.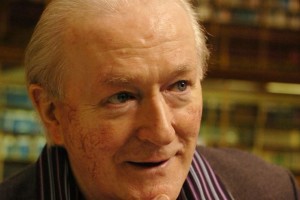 Tony Barrow
Tony Barrow blev født i Liverpool-forstaden Crosby den 11. maj 1936. Han begyndte som journalist på avisen Liverpool Echo i 1954 og havde i 1961 en fast klumme i bladet, hvor han anmeldte plader under pseudonymet Disker. I slutningen af 1961 blev han kontaktet af The Beatles' manager, Brian Epstein, som opfordrede ham til at skrive om The Beatles. Tony Barrow fortalte Epstein, at så længe gruppen ikke havde udgivet plader, var det udelukket, men da Barrow samtidig skrev bagsidetekster til pladeomslag for selskabet Decca Records, henviste han Epstein til Deccas repertoirechef, Dick Rowe, som arrangerede en prøveindspilning med gruppen den 1. januar 1962.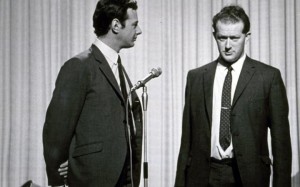 Tony Barrow, t.h., sammen med Brian Epstein
Forbindelsen til Epstein betød, at Barrow i maj 1963 blev ansat som PR-chef i Epsteins selskab, NEMS, og dermed blev ansvarlig for kontakten mellem The Beatles og medierne. De følgende år arbejdede han sammen med to andre PR-medarbejdere, først Brian Sommerville og senere Derek Taylor. Samtidig skrev han også artikler i gruppens officielle fanblad, Beatles Monthly, under pseudonymet Frederick James, som i virkeligheden er hans mellemnavne. Dertil forfattede han covernoterne på de første tre Beatles-LP'er, "Please Please Me", "With The Beatles" og "A Hard Day's Night", og fik idéen til de årlige juleplader, som gruppen indspillede og kun udsendte til medlemmerne af fanklubben.
Tony Barrow var tilstede, da The Beatles mødte Elvis Presley i dennes hus i Beverly Hills den 27. august 1965, og året efter var det Tony, som optog båndet med gruppens allersidste koncert i Candlestick Park i San Francisco. Han skrev teksten til den tegneserie, som var inkluderet på soundtracket til "Magical Mystery Tour", 1967.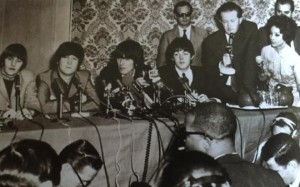 Tony Barrow, med mikrofonen, og The Beatles
Samarbejdet med The Beatles ophørte i 1968, da gruppen dannede deres eget pladeselskab Apple Records og kort tid efter Brian Epsteins død.
Gennem 1970'erne drev han sit eget managementfirma, Tony Barrow International, hvor han varetog interesserne for populære navne som David Cassidy, Sweet, Gary Glitter, Bay City Rollers, Deep Purple, The Kinks og Gladys Knight. Men i begyndelsen af 1980'erne vendte han tilbage til skriveriet og var siden fast skribent i bl.a. Beatles Monthly.
Tony Barrow har endvidere udgivet flere bøger. Den første, "On The Scene At The Cavern", skrevet under pseudonymet Alistair Griffin, udkom i 1964 og er en beskrivelse af musikmiljøet i Liverpools berømte beatklub. Senere udkom "P.S. We Love You", 1982, om The Beatles' karriere i perioden 1962-63, og "Inside The Music Business", en guide gennem musikbranchen for unge, vordende stjerner. Senere har han bl.a. udsendt "The Making of The Beatles' Magical Mystery Tour", 1999, og "John, Paul, George, Ringo And Me: The Real Beatles Story", 2005.
Tony Barrow døde den 14. maj 2016, og efterlader sig hustruen Corinne og to sønner, Mike og Mark.