af Karsten Jørgensen
Den mest kendte fodgængerovergang i verden er helt sikkert den på Abbey Road i London-forstaden St. John's Wood, hvor de fire musikere i The Beatles en augustdag for 50 år siden krydsede over, med ryggen vendt mod EMI's pladestudie, hvor de havde indspillet næsten alle deres plader siden 1962.
Billedet af de fire Beatles på zebrastriberne endte som motivet på omslaget til gruppens sidste LP, og den 26. september er det præcis 50 år siden, at "Abbey Road" blev udsendt og berigede verden med evigtgrønne klassikere som "Something", "Come Together", "Here Comes The Sun" og "She Came In Through The Bathroom Window", for blot at nævne nogle få af titlerne.
For at fejre jubilæet udsender Apple/Universal Music nu, ligesom tidligere med "Sgt. Pepper" og "Det Hvide Album" i henholdsvis 2017 og 2018, albummet i flere konstellationer – i alt seks forskellige fysiske udgaver, hvor det originale album, i et nyt stereo-mix af produceren Giles Martin og lydmanden Sam Okell, suppleres af en stribe outtakes, alternative versioner og demoer af albummets sange, plus andre sange med forbindelse til de oprindelige indspilninger.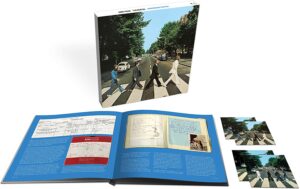 "Abbey Road", super deluxe edition, 3 cd + blu-ray + hardcover bog
"Abbey Road" udsendes som et super deluxe bokssæt med 3 cd'er, en blu-ray og en hardcover bog med mere end 80 fotos af Linda McCartney, et forord af Paul McCartney, og yderligere tekster af Giles Martin, David Hepworth og Kevin Howlett.
Endvidere udsendes albummet på enkelt-cd og dobbelt-cd, samt på vinyl som enkelt LP, tre-dobbelt LP og billed-LP.
Enkelte titler har tidligere været udgivet på "Anthology 3" i 1996, bl.a. Paul McCartneys demo af "Come And Get It" – sangen han senere forærede til gruppen Badfinger. Men næsten alle de øvrige har ikke været udsendt officielt på plade før, og blandt de mest interessante rariteter er Take 7 af singlen "The Ballad Of John And Yoko" og en alternativ version af dens B-side, George Harrisons "Old Brown Shoe". McCartney solo er repræsenteret med demoen til sangen "Goodbye", en lille klassiker, han forærede til Mary Hopkin, mens Harrison brillerer med "Something" i et andet mix end den version, som blev udsendt på "Anthology 3".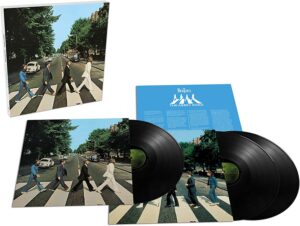 "Abbey Road", vinyl, 3 LP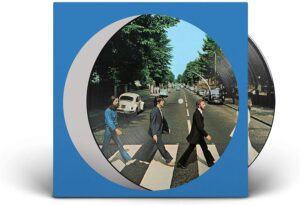 "Abbey Road", LP, picture-disc
Jubilæums-udgaven af "Abbey Road" udsendes fredag den 27. september 2019 af Apple/Universal Music Enterprises.
Trackliste for Super Deluxe Edition (3 cd + blu-ray) af "'Abbey Road":
CD 1: 2019 Stereo Mix
1. Come Together
2. Something
3. Maxwell's Silver Hammer
4. Oh! Darling
5. Octopus's Garden
6. I Want You (She's So Heavy)
7. Here Comes The Sun
8. Because
9. You Never Give Me Your Money
10. Sun King
11. Mean Mr Mustard
12. Polythene Pam
13. She Came In Through The Bathroom Window
14. Golden Slumbers
15. Carry That Weight
16. The End
17. Her Majesty
CD 2: Sessions
1. I Want You (She's So Heavy) (Trident Recording Session & Reduction Mix)
2. Goodbye (Home Demo)
3. Something (Studio Demo)
4. The Ballad Of John And Yoko (Take 7)
5. Old Brown Shoe (Take 2)
6. Oh! Darling (Take 4)
7. Octopus's Garden (Take 9)
8. You Never Give Me Your Money (Take 36)
9. Her Majesty (Takes 1-3)
10. Golden Slumbers/Carry That Weight (Takes 1-3 / Medley)
11. Here Comes The Sun (Take 9)
12. Maxwell's Silver Hammer (Take 12)
CD 3: Sessions
1. Come Together (Take 5)
2. The End (Take 3)
3. Come And Get It (Studio Demo)
4. Sun King (Take 20)
5. Mean Mr Mustard (Take 20)
6. Polythene Pam (Take 27)
7. She Came In Through The Bathroom Window (Take 27)
8. Because (Take 1 – Instrumental)
9. The Long One (Trial Edit & Mix – 30 July 1969)
10. (Medley: You Never Give Me Your Money, Sun King, Mean Mr Mustard, Her Majesty,
Polythene Pam, She Came In Through The Bathroom Window, Golden Slumbers, Carry That
Weight, The End)
11. Something (Take 39 – Instrumental – Strings Only)
12. Golden Slumbers/Carry That Weight (Take 17 – Instrumental – Strings & Brass Only)
Blu-Ray:
Audio Features:
– Dolby Atmos
– 96kHz/24 bit DTS-HD Master Audio 5.1
– 96kHz/24 bit High Res Stereo (2019 Stereo Mix)