af Karsten Jørgensen
"On the corner is a banker with a motorcar,
the little children laugh at him behind his back.
And the banker never wears a Mac *
in the pouring rain, very strange".
Sådan synger Paul McCartney i Beatles-sangen "Penny Lane" fra 1967. Men til juni lukker banken på hjørnet ved rundkørslen Penny Lane i McCartneys fødeby Liverpool, og endnu et ikonisk stykke Beatles-historie forsvinder.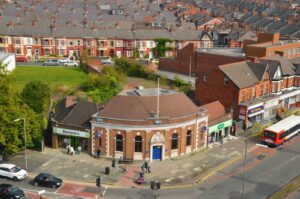 TSB-banken på Penny Lane
Banken, som i dag er en del af TSB, er blot en af i alt 164 afdelinger i hele England, som forventes at lukke dørene i år, og gøre mere end 800 ansatte arbejdsløse.
Paul McCartney skrev sangen "Penny Lane" i 1967, og The Beatles indspillede den i begyndelsen af de sessions, som blev til det berømte album "Sgt. Pepper's Lonely Hearts Club Band".
"Det var barndomsminder", fortalte McCartney i Barry Miles' bog "Many Years From Now" i 1997. "Der lå en bank på hjørnet, og derfor forestillede jeg mig denne bankansatte, hvad han tænkte og hvad der skete omkring ham…Det var ikke en virkelig person".
Der er dog begrundet tvivl om, hvorvidt det var TSB-banken, som var den egentlige inspiration. For der lå også en anden bank, Barclays, lige i nærheden, på hjørnet af Allerton Road og Church Road, og på trods af McCartneys påstand om, at bankmanden i sangen ikke var en virkelig person, er der flere som påstår, at det var en ansat i Barclays, Harold Yates, som var inspirationen bag "the banker with a motorcar".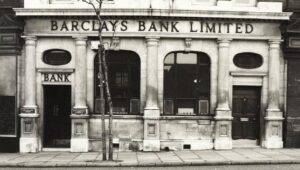 Barclays-banken på Penny Lane, foto fra 1963
*) Mac er en forkortelse af MacIntosh, som er engelsk slang for en regnfrakke.