af Karsten Jørgensen
Neil Youngs koncert i The Shakespeare Theater i Stratford, Connecticut, den 22. januar 1971, er næste liveoptagelse fra hans enorme arkiv, som bliver udsendt på cd, vinyl og DVD, både separat og som samlet bokssæt.
Koncerten blev optaget et par måneder efter udgivelsen af albummet "After The Goldrush" og mere end et år før det klassiske "Harvest", og filmoptagelser blev oprindelig vist senere samme år på tysk fjernsyn.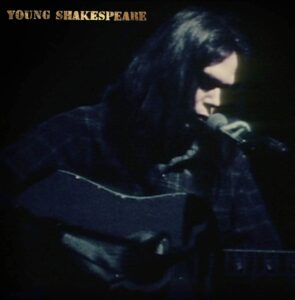 "Young Shakespeare", som titlen er på både cd og DVD, bliver udsendt af Reprise Records i morgen, 26. marts, og indeholder mange af Neil Youngs udødelige sange, bl.a. "Old Man", "Ohio", "Cowgirl In The Sand", "Helpless" og "Down By The River".
Filmen blev optaget på 16 mm og er, ifølge Youngs hjemmeside, de tidligste visuelle liveoptagelser med Neil Young som solist, hvor han akkompagnerer sig selv på både guitar og klaver.
Trackliste til "Young Shakespeare":
Tell Me Why
Old Man
The Needle and the Damage Done
Ohio
Dance Dance Dance
Cowgirl in the Sand
A Man Needs A Maid/Heart of Gold medley
Journey Through The Past
Don't Let It Bring You Down
Helpless
Down By The River
Sugar Mountain