af Karsten Jørgensen
Efter en ventetid på 18 år, udsender Bob Dylan nu en follow-up til sin seneste bog, den anmelderroste "Chronicles: Volume One", fra 2004. Men fans, som har set frem til en "Volume Two", bliver desværre skuffede.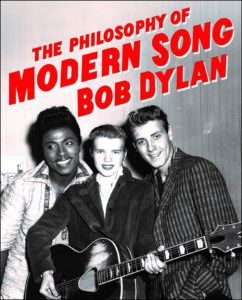 Den nye bog, med titlen "The Philosophy of Modern Song", udkommer på forlaget Simon & Schuster den 8. november, og indeholder mere end 60 essays, hvor Dylan skriver om, analyserer og fortolker sange af sangskrivere som bl.a. Stephen Foster, Hank Williams, Nina Simone, Elvis Costello og, må man formode, eftersom han er afbildet på omslaget, Little Richard. Udgivelsen ledsages af en lydbog, som delvis er indtalt af Bob Dylan selv.
Bob Dylan, som i 2016 modtog Nobel-prisen i literatur, udsendte sin første bog, "Tarantula", i 1971. I 2020 udgav han sit seneste nye album, "Rough and Rowdy Ways", og i øjeblikket er han i gang med sin første turne siden december 2019.