af Karsten Jørgensen
Den gamle Beatles-trommeslager Ringo Starr, som fylder 81 i juli, medvirkede fornylig i tv-showet "The Late Show" med Stephen Colbert, og afslørede, at hans yndlingssang med The Beatles hverken var "Act Naturally", "Don't Pass Me By" eller "Octopuss' Garden", som han selv sang.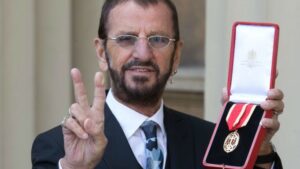 Ringo Starr, da han blev adlet i 2018
Stephen Colbert stillede ham spørgsmålet: "Du får én sang at lytte til resten af livet. Hvilken?"
Og Ringo svarede uden tøven: "Come Together".
"Jeg har mange andre favoritter, men du vil kun ha' én. "Come Together" er et godt valg. Den fungerede perfekt med gruppen og var John, når han var bedst. Jeg elskede det øjeblik".
"Come Together" var skrevet af John Lennon, som senere blev sagsøgt på grund af sangens lighed med en Chuck Berry-sang, "You Can't Catch Me". Parterne indgik imidlertid forlig, inden sagen kom til doms, og resulterede bl.a. i, at Lennon – som en del af forliget – udgav sin version af "You Can't Catch Me" på albummet "Rock And Roll" i 1975.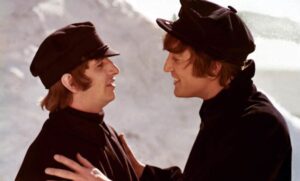 Ringo Starr og John Lennon i filmen 'Help!', 1965