af Karsten Jørgensen
Den engelske lydtekniker og producer Geoff Emerick, som siden 1966 arbejdede sammen med The Beatles, Paul McCartney og mange andre, er død af hjertestop, 72 år.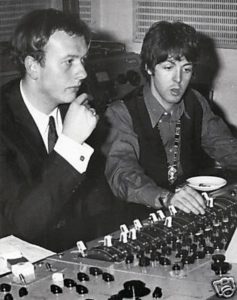 Geoff Emerick i studiet med Paul McCartney
"En af de bedste og mest opfindsomme lydfolk", skrev produceren Giles Martin, søn af afdøde Beatles-producer George Martin. "Vi er alle påvirket af de lyde, han var med til at skabe på den mest fantastiske musik, der nogensinde er indspillet".
Geoffrey Ernest Emerick blev født i London den 5. december 1945, og begyndte sin karriere som assisterende lydtekniker hos EMI Records som 15-årig. Han var første gang involveret i en indspilning med The Beatles i 1963, hvor han var båndoperatør på to sange, "Misery" og "Baby It's You".
Tre år senere, i april 1966, blev Emerick forfremmet til primær lydtekniker, og afløste Norman Smith ved The Beatles' pladeindspilninger. De følgende tre år skabte trekløveret af The Beatles, produceren George Martin og Emerick pladerne "Revolver", "Sgt. Pepper's Lonely Hearts Club Band", "Magical Mystery Tour", "The Beatles (The White Album)", "Yellow Submarine" og "Abbey Road".
"Jeg blev lidt overrasket; ja, faktisk skræmte det mig", sagde Emerick senere om det første samarbejde med The Beatles på "Revolver". "Ansvaret var enormt, men jeg sagde ja, og tænkte, at jeg måtte løse problemerne i takt med at de opstod".
Senere kaldte Emerick "A Day In The Life" for højdepunktet i sin karriere. "Den aften, vi indspillede det store orkester, gik min og alle andres verden fra sort/hvid til farver".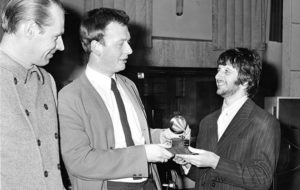 Geoff Emerick, i midten, med George Martin og Ringo Starr
Efter opløsningen af The Beatles i 1970 fortsatte Emerick samarbejdet med Paul McCartney. Han var teknisk ansvarlig for en stribe Wings- og McCartney-albums: "Band On The Run", 1973, "Venus And Mars", 1975, "London Town", 1978, "Tug Of War", 1982, "Pipes of Peace", 1983, "Give My Regards To Broad Street", 1984, "Flowers in the Dirt", 1989, "Unplugged – The Official Bootleg", 1991, "Paul Is Live", 1993, "Flaming Pie", 1997, "Run Devil Run", 1999, "Driving Rain", 2001, og "Memory Almost Full", 2007. Venskabet mellem dem var så tæt, at Paul McCartney var forlover, da Geoff Emerick i januar 1989 blev gift med Nicole Graham.
Geoff Emerick har endvidere arbejdet på albummet "The Beatles At The Hollywood Bowl", 1977, soundtrack-LP'en "Sgt. Pepper's Lonely Hearts Club Band" (med The Bee Gees og Peter Frampton), 1978, og cd-trilogien "Anthology", med optagelser fra Beatles-arkiverne, 1995-96. Desuden har han produceret flere plader med andre kunstnere, bl.a. "Imperial Bedroom", 1982, og "All This Useless Beauty", 1996, med sangeren Elvis Costello, samt albums med både Kate Bush, Art Garfunkel, Judy Garland, America, Badfinger, Manfred Mann, The Zombies og mange andre.
Geoff Emerick modtog tre Grammy'er som lydtekniker, for hhv. "Sgt. Pepper", "Abbey Road" og Wings' "Band On The Run", og fik i 2003 en fjerde, en "teknisk Grammy", for "at have flyttet grænserne i pladestudiet med sin kreativitet og fantasi".
I 2006 udgav Geoff Emerick erindringsbogen "Here, There and Everywhere: My Life Recording the Music of the Beatles", og mange kritiserede ham efterfølgende for, at han i alt for høj grad fremhævede Paul McCartneys betydning, og nedtonede George Harrison og Ringo Starrs roller i The Beatles.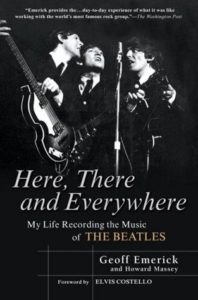 Geoff Emerick døde den 2. oktober 2018.