af Karsten Jørgensen
Den amerikanske sanger, guitarist og sangskriver Mac Davis, der både havde en solokarriere som country- og popsanger og skrev en stribe markante sange til Elvis Presley i slutningen af 1960'erne, er død i Nashville efter en hjerteoperation, 78 år.
Dødsfaldet blev meddelt på Facebook af Davis' manager i næsten fyrre år, Jim Morey, som skrev, at Davis var en musiklegende, men at "hans vigtigste opgave var som kærlig ægtemand, far, bedstefar og ven".
Scott 'Mac' Davis blev født i Lubbock i Texas den 21. januar 1942, og lod sig tidligt inspirere af Buddy Holly – ligeledes bosat i Lubbock – til at skrive sine første sange.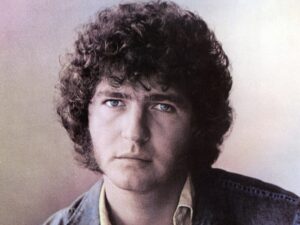 Efter et mislykket forsøg som ung, håbefuld rocksanger, fik Davis i begyndelsen af 1960'erne arbejde på pladeselskabet Vee-Jay Records og, senere, Liberty. I sin fritid komponerede han sange, og to af hans kompositioner, "You're Good To Me" og "Within My Memory", blev i 1967 indspillet af henholdsvis Lou Rawls og Glen Campbell. Herefter var Mac Davis overbevist om, at hans fremtid var som sangskriver.
Davis' karriere fik et gevaldigt løft, da Elvis Presley i 1968 og 1969 indspillede hans sange "A Little Less Conversation", "Nothingville", "Charro!", "Clean Up Your Own Back Yard", "Memories", samt hitsinglerne "In The Ghetto" og "Don't Cry Daddy", sange, der havde noget så usædvanligt for Elvis som et budskab.
Herefter var der rift om Davis' kompositioner, og i begyndelsen af 1970'erne blev hans sange indspillet af bl.a. O.C. Smith ("Friend, Lover, Woman, Wife"), Bobby Goldsboro ("Watching Scotty Grow", skrevet om Macs søn), Kenny Rogers & The First Edition ("Something's Burning"), samt Nancy Sinatra og Dolly Parton.
I 1970 fik Mac Davis en pladekontrakt med Columbia Records. Hans første album, "Mac Davis; Song Painter", udkom i 1971, og han fik året efter et nr. 1-hit med sangen "Baby, Don't Get Hooked On Me". Efter denne succes havde Davis de følgende år endnu tre popsange på Top 20 – "One Hell Of A Woman", "Stop And Smell The Roses" og "Rock'n'Roll (I Gave You The Best Years Of My Life)". I 1980'erne koncentrerede han sig om country, og havde flere hits – det største var "Hooked On Music" – indtil 1985.
Mac Davis var tre gange nomineret til en Grammy, uden at vinde, og var medlem af Songwriters Hall of Fame. Han udgav sit sidste album i 1994, "Will Write Songs For Food", som indeholdt en duet med Dolly Parton og en nyindspilning af "In The Ghetto" – en sang, der er indspillet i mere end 150 forskellige versioner.
Han fortsatte med at komponere, og arbejdede i de senere år på sange sammen med bl.a. Avicii, Bruno Mars og Rivers Cuomo.
Mac Davis, som døde den 29. september, efterlader sig hustruen Lise, sønnerne Scott, Noah og Cody, samt moderen Edith og en søster Linda. Han bliver begravet i Lubbock.