af Karsten Jørgensen
Efter både Tom Hanks og hans kone Rita Wilson i marts blev ramt af coronavirus under indspilningen af Baz Luhrmanns Elvis-film, har optagelserne ligget stille.
Optagelserne, som begyndte på den australske 'guldkyst', Queensland, i slutningen af januar, blev afbrudt efter den 63-årige Hanks blev testet positiv for coronavirus. Tom Hanks spiller rollen som Elvis' enevældige og koleriske manager Colonel Parker, mens Austin Butler har rollen som Elvis selv.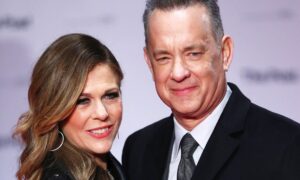 Tom Hanks med konen Rita Wilson
Da Hanks-parret blev erklæret raske, forlod de Australien og rejste til Los Angeles i slutningen af marts. Her gik de i selvisolation og har brugt den resterende tid til at komme til hægterne efter strabadserne.
I går, den 23. september, blev produktionen af filmen genoptaget, men den ufrivillige pause i optagelserne betyder, at to af de oprindelige skuespillere har måttet melde afbud pga. andre forpligtelser.
Dels Rufus Sewell, som skulle have spillet rollen som Vernon Presley, Elvis' far. Han bliver nu erstattet af Richard Roxburgh, som også spillede med i Luhrmanns tidligere film "Moulin Rouge". Og dels Maggie Gyllenhaal som Elvis' mor Gladys. Hendes rolle bliver nu udfyldt af Helen Thomson.
Elvis-filmen, som endnu er uden en endelig titel, er planlagt til at få premiere den 5. november 2021.