af Karsten Jørgensen
Når man taler om musikere, som har indspillet hele albums og derefter skrinlagt dem, er det kun Prince, som tangerer den mængde uudgivne plader, Neil Young har på samvittigheden.
Gennem de senere år, har Neil Young dog systematisk prøvet at tømme sine arkiver af hengemte sange, og det resulterede bl.a. i udgivelsen af albummet "Hitchhiker" (oprindelig indspillet i 1976) i 2017 og "Homegrown" sidste år – sidstnævnte et helt album indspillet i 1975, men aldrig udsendt.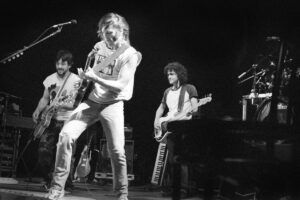 Neil Young og Crazy Horse
Nu har Neil Young så fundet endnu et "glemt" album frem, som blev indspillet i 1987 under titlen "Summer Songs". Det var i den periode, Young var tilknyttet Geffen Records, som sagsøgte ham for at udgive "ukarakteristiske plader".
Konflikten mellem Young og Geffen Records resulterede i, at "Summer Songs" blev lagt på hylden, og i stedet udsendte Neil Young albummet "Life", indspillet sammen med Crazy Horse.
Fornylig fandt Neil Young så "Summer Songs" frem fra gemmerne, og skriver på sin hjemmeside, at der er nogen usikkerhed omkring hvem der medvirkede på sangene og hvem der producerede. Faktisk skriver han, at han "slet ikke kan huske disse sessions".
Neil Young nævner titlerne på sangene på "Summer Songs": "The Last Of His Kind", "For The Love Of Man", "American Dream", "Name Of Love", "Someday", "One Of These Days", "Hangin' On A Limb" og "Wrecking Ball", og hævder at albummet både udkommer på det planlagte boks-sæt "Neil Young Archive, Volume 3" og som et separat album.
Flere af sangene blev senere udsendt på andre af Youngs plader, bl.a. "Name Of Love" og "American Dream" på Crosby, Stills, Nash & Young-albummet med denne titel, "Hangin' On A Limb", "Wrecking Ball" og "Someday" på "Freedom", "One Of These Days" på "Harvest Moon" og "For The Love Of Man" på dobbeltalbummet "Psychedelic Pill", mens "The Last Of His Kind" er det eneste af albummets otte sange, som ikke har været udgivet tidligere.