af Karsten Jørgensen
26. juli udsender den anerkendte skotske fotograf Harry Benson en ny bog, "Paul", via forlaget Taschen.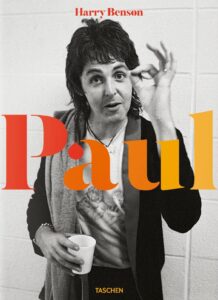 Bogen, som kommer i kølvandet på Paul McCartneys 80 års fødselsdag, indeholder mere end 100 fotos, både sort/hvide og i farve, og dækker det meste af McCartneys karriere fra 1964, hvor beatlemania var på sit højeste, over opløsningen af The Beatles, til Pauls solokarriere, både alene og med gruppen Wings.
Harry Benson har fotograferet alle amerikanske præsidenter siden Eisenhower sidst i 1950'erne, og stod lige ved siden af Robert Kennedy, da denne blev snigmyrdet på et hotel i Los Angeles i 1968.
Bensons linse har endvidere foreviget ikoner som Elizabeth Taylor, Michael Jackson og den engelske dronning Elizabeth, og hans billeder har været trykt i magasiner som Vanity Fair, Time, Paris Match og Newsweek, samt aviser som engelske The Times.
I 2009 blev Harry Benson hædret med den britiske orden CBE, en forkortelse af Commander of the British Empire.