af Karsten Jørgensen
Pete Best, som spillede trommer i The Beatles fra dagene i Hamborg i 1960 til gruppen fik en pladekontrakt med Parlophone i 1962, hvor Ringo Starr overtog pladsen bag 'gryderne', har sagt ja til at medvirke i et teaterstykke om John Lennon, som bliver opført på Liverpools Epstein Theatre i april og maj 2018.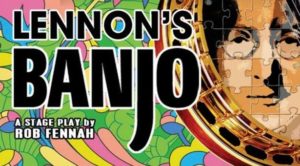 Stykket, en komedie med titlen "Lennon's Banjo", handler om det første instrument, John Lennon lærte at spille på – en banjo, som hans mor Julia ejede.
Handlingen i stykket er en blanding af fakta og fiktion, og fokuserer på bestræbelserne på at finde banjoen, som forsvandt for 60 år siden og aldrig er blevet fundet.
Pete Best spiller rollen som sig selv i "Lennon's Banjo", og Rob Fennah, som har skrevet manuskriptet, baseret på en roman af Rob og Helen A. Jones, "Julia's Banjo", er begejstret for, at Pete Best har indvilliget i at medvirke.
"At have en rigtig Beatle på scenen er et fantastisk scoop, ikke bare for de heldige tilskuere, som har sikret sig billet, men også for resten af de medvirkende i stykket", siger Fennah.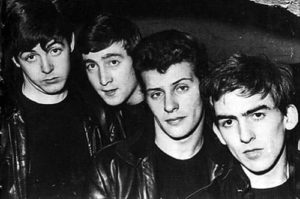 The Beatles – Pete Best nr. 2 fra højre – i Hamborg i de tidlige 1960'ere
På grund af andre forpligtelser med sit eget band, medvirker Pete Best kun i nogle af opførelserne af "Lennon's Banjo", fra 25. april til 5. maj.