af Karsten Jørgensen
For præcis 50 år siden, den 15. august 1965, spillede The Beatles deres største koncert nogensinde på det enorme Shea Stadium i New York. Med et publikum på 55.600 var det i mange år rockhistoriens største koncert, og som sådan indvarslede den de nye tider med udendørs stadionkoncerter, modsat de noget mindre koncertsale og klubber, som indtil da havde været sædvane for selv store etablerede musiknavne.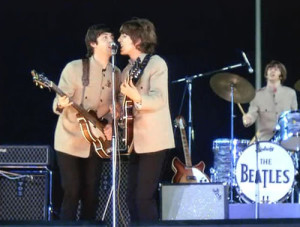 Begivenheden, som viste 'beatlemania' på sit højeste, blev foreviget i TV-filmen "The Beatles At Shea Stadium", og er et monument over en periode, der aldrig var set tidligere og ikke ville blive set igen, og allerede året efter, da The Beatles igen spillede på Shea, var der mange usolgte sæder, og det var tydeligt, at en del af publikummet, som havde klappet af og tiljublet "I Want To Hold Your Hand", ikke fulgte med over i de mere sofistikerede sange, The Beatles i august 1966 udsendte på "Revolver".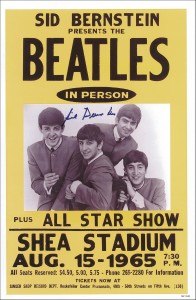 Shea Stadium, plakat

Koncertbillet
Elleve år efter den første Beatles-koncert på Shea, slog Paul McCartney sin egen rekord, da han med gruppen Wings den 10. juni 1976 spillede i Kingdome-hallen i Seattle for mere end 67.000 fans. Og under verdensturneen i 1990 gjorde han det igen, da han den 21. juni gav koncert på det gigantiske Maracana Stadium i Rio de Janeiro, Brasilien, med 184.000 fans – rockmusikkens indtil da største koncert med et betalende publikum.