af Karsten Jørgensen
Da Bob Dylan i 1997 udsendte albummet "Time Out of Mind", blev det af de fleste betegnet som et "comeback", efter en stribe middelmådige og uinspirerede plader op gennem 1980'erne og 1990'erne, undtaget den anmelderroste "Oh Mercy" i 1989.
Som den nyeste gren på Dylans mangeårige serie af arkivindspilninger, "The Bootleg Series", sættes der nu fokus på netop den periode, hvor han indspillede "Time Out of Mind" sammen med produceren Daniel Lanois, som også var med på "Oh Mercy", studiemusikere som bl.a. trommeslageren Jim Keltner, plus medlemmer af hans faste turneband, som bestod af bl.a. Bucky Baxter på guitar, Duke Robillard, ligeledes guitar, og bassisten Tony Garnier.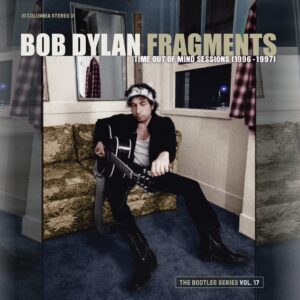 Da "Time Out of Mind" udkom den 30. september 1997, var anmelderne ikke længe om at udråbe den til en klassiker, med slidstærke sange som "Love Sick", "Cold Irons Bound", "Not Dark Yet" og "Make You Feel My Love". Sidstnævnte er siden udsendt i over 400 coverversioner med bl.a. Billy Joel, Garth Brooks, Neil Diamond og Adele, mens selve albummet opnåede en placering som nr. 10 på Billboard 200 og efterfølgende vandt tre Grammy'er, dels i kategorierne Album of the Year og Best Contemporary Folk Album, og dels i Best Male Rock Vocal Performance for sangen "Cold Irons Bound".
Den 27. januar udsender Bob Dylan og Columbia Legacy bokssættet "Fragments – Time Out Of Mind Sessions (1996-1997): The Bootleg Series Vol. 17", både i standardudgaver som hhv. 2 cd'er og 4 LP'er, og deluxe-udgaver med hhv. 5 cd'er og 10 LP'er.
Dylan udtrykte senere en vis utilfredshed med Lanois' produktion, og derfor indeholder cd 1 i boksen et nyt remix af det oprindelige album, udført af Michael H. Brauer.
I covernoterne skriver musikkritikeren Steven Hyden, at remixet skal føre "lytterne og musikeren tættere på hinanden", og ikke er tænkt som en erstatning for det oprindelige album – men et alternativ.
Cd 2 og 3 har outtakes og alternative versioner, heriblandt fire sange, som ikke kom med på "Time Out of Mind" – "Dreamin' of You", "Red River Shore", "Marchin' to the City" og "Mississippi" (som Dylan genindspillede til sit næste album, "Love and Theft", i 2001).
Cd 4 indeholder koncertoptagelser fra perioden 1998 til 2001, bl.a. "Make You Feel My Love" fra Los Angeles i maj 1998, der tidligere er udsendt på maxi-singlen "Things Have Changed".
Den sidste og femte cd præsenterer et dusin sange, som tidligere var udgivet på "The Bootleg Series Vol. 8: Tell Tale Signs – Rare and Unreleased 1989-2006".
Trackliste for "Fragments – Time Out Of Mind Sessions (1996-1997): The Bootleg Series Vol. 17":
CD 1: Time Out of Mind (2022 Remix) (*)
1. Love Sick
2. Dirt Road Blues
3. Standing in the Doorway
4. Million Miles
5. Tryin' to Get to Heaven
6. 'Til I Fell in Love with You
7. Not Dark Yet
8. Cold Irons Bound
9. Make You Feel My Love
10. Can't Wait
11. Highlands
CD 2: Outtakes and Alternates
1. The Water is Wide (8/19/96, Teatro) (*)
2. Dreamin' of You (10/1/96, Teatro)
3. Red River Shore – version 1 (9/26/96, Teatro) (*)
4. Love Sick – version 1 (1/14/97, Criteria Studios) (*)
5. 'Til I Fell in Love with You – version 1 (10/3/96, Teatro)
6. Not Dark Yet – version 1 (1/11/97, Criteria Studios) (*)
7. Can't Wait – version 1 (1/21/97, Criteria Studios) (*)
8. Dirt Road Blues – version 1 (1/12/97, Criteria Studios) (*)
9. Mississippi – version 1 (1/11/97, Criteria Studios)
10. 'Til I Fell in Love with You – version 2 (1/16/97, Criteria Studios)
11. Standing in the Doorway – version 1 (1/13/97, Criteria Studios)
12. Tryin' to Get to Heaven – version 1 (1/18/97, Criteria Studios)
13. Cold Irons Bound (1/9/97, Criteria Studios) (*)
CD 3: Outtakes and Alternates
1. Love Sick – version 2 (1/14/97, Criteria Studios)
2. Dirt Road Blues – version 2 (1/20/97, Criteria Studios)
3. Can't Wait – version 2 (1/14/97, Criteria Studios)
4. Red River Shore – version 2 (1/19/97, Criteria Studios)
5. Marchin' to the City (1/5/97, Criteria Studios)
6. Make You Feel My Love – take 1 (1/5/97, Criteria Studios) (*)
7. Mississippi – version 2 (1/11/97, Criteria Studios) (*)
8. Standing in the Doorway – version 2 (1/13/97, Criteria Studios) (*)
9. 'Til I Fell in Love with You – version 3 (1/16/97, Criteria Studios)
10. Not Dark Yet – version 2 (1/18/97, Criteria Studios)
11. Tryin' to Get to Heaven – version 2 (1/12/97, Criteria Studios) (*)
12. Highlands (1/16/97, Criteria Studios) (*)
CD 4: Live (1998-2001)
1. Love Sick (6/24/98, Birmingham, England)
2. Can't Wait (2/6/99, Nashville, Tennessee)
3. Standing In The Doorway (10/6/00, London, England)
4. Million Miles (1/31/98, Atlantic City, New Jersey)
5. Tryin' to Get to Heaven (9/20/00, Birmingham, England)
6. 'Til I Fell in Love with You (4/5/98, Buenos Aires, Argentina)
7. Not Dark Yet (9/22/00, Sheffield, England)
8. Cold Irons Bound (5/19/00, Oslo, Norway)
9. Make You Feel My Love (5/21/98, Los Angeles, California) (Previously released on the "Things Have Changed" maxi-single)
10. Can't Wait (5/19/00, Oslo, Norway)
11. Mississippi (11/15/01, Washington, D.C.)
12. Highlands (3/24/01, Newcastle, Australia)
CD 5: Bonus Disc (alle sange tidligere udsendt på The Bootleg Series Vol. 8: Tell Tale Signs: Rare and Unreleased 1989-2006)
1. Dreamin' of You – Tell Tale Signs (10/1/96, Teatro)
2. Red River Shore – Tell Tale Signs, version 1 (1/19/97, Criteria Studios)
3. Red River Shore – Tell Tale Signs, version 2 (1/8/97, Criteria Studios)
4. Mississippi – Tell Tale Signs, version 1 (9/96, Teatro)
5. Mississippi – Tell Tale Signs, version 3 (1/17/97, Criteria Studios)
6. Mississippi – Tell Tale Signs, version 2 (1/17/97, Criteria Studios)
7. Marchin' to the City – Tell Tale Signs, version 1 (1/5/97, Criteria Studios)
8. Marchin' to the City – Tell Tale Signs, version 2 (1/6/97, Criteria Studios)
9. Can't Wait – Tell Tale Signs, version 1 (10/1/96, Teatro)
10. Can't Wait – Tell Tale Signs, version 2 (1/5/97, Criteria Studios)
11. Cold Irons Bound – Tell Tale Signs, live (6/11/04, Bonnaroo Music Festival)
12. Tryin' to Get to Heaven – Tell Tale Signs, live (10/5/00, London, England)
(*) sange udsendt på standard-udgaven