af Karsten Jørgensen
George Harrison, der var sanger, guitarist og sangskriver i The Beatles, og senere havde en ofte ujævn solokarriere, ville i dag være fyldt 80 år.
George Harrison med sin mor og storebror Peter i Dublin, 1950
George Harrison blev født i Liverpool den 25. februar 1943, og begyndte tidligt at spille guitar. Han dannede i 1956 skifflegruppen The Rebels, og blev i 1958 medlem af gruppen The Quarrymen, hvis førende medlemmer var John Lennon og Paul McCartney. I 1960 skiftede gruppen navn til The Beatles, som efter flere opslidende engagementer i Hamborg, fik en pladekontrakt med Parlophone Records i 1962.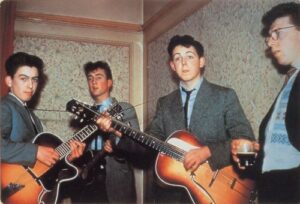 The Quarrymen, 1958, George yderst til venstre
Gennem 1960'erne var Harrison den lidt stilfærdige guitarist i The Beatles, som måtte kæmpe for at få plads til sine kompositioner på gruppens LP'er, der var domineret af Lennon og McCartneys sange. Det blev til få, men markante sange som "Think For Yourself", "While My Guitar Gently Weeps", "Within You, Without You", "Something", "Here Comes The Sun" og "I Me Mine". Samtidig opstod en tidlig interesse for indisk filosofi og musik, allerede under indspilning af filmen "Help!" i 1965, som var med til at forme Harrison resten af livet.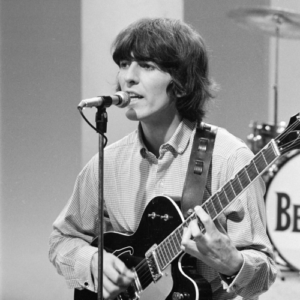 George Harrison på The Ed Sullivan Show, 1965
The Beatles, 1965, George nederst til venstre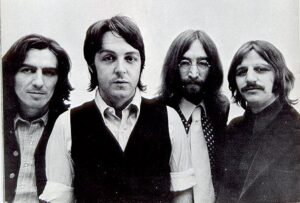 The Beatles, april 1969, George yderst til venstre
Efter The Beatles' opløsning udsendte Harrison det tredobbelte album "All Things Must Pass", som var en kanonbegyndelse på en solokarriere, der tabte fart efterhånden som 1970'erne skred frem. Hans øvrige LP'er det årti, "Living In The Material World", "Dark Horse", "Extra Texture" og "Thirty Three & 1/3" så en svingende kvalitet i hans sange, og Harrison holdt lav profil gennem det meste af 1980'erne.
I stedet koncentrerede han sig om at lave film. Han dannede filmselskabet HandMade Films, der producerede succesfilm som "Life of Brian", "Time Bandits" og "The Long Good Friday", før Harrison gjorde comeback i 1987 med det Jeff Lynne-producerede album "Cloud Nine".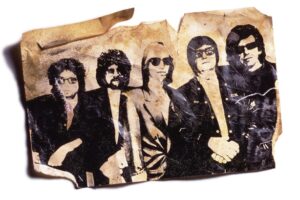 The Traveling Wilburys, 1988, Bob Dylan, Jeff Lynne, Tom Petty, Roy Orbison og Harrison
Året efter dannede han supergruppen The Traveling Wilburys sammen med Bob Dylan, Tom Petty, Roy Orbison og Lynne, og udsendte to anmelderroste albums i henholdsvis 1988 og 1980. I 1992 tog Harrison på en kort turné i Japan sammen med vennen Eric Clapton, men holdt sig ellers under radaren resten af livet, bortset fra en del medieopmærksomhed i forbindelse med udgivelsen af det store "The Beatles Anthology"-projekt i 1995-96.
Året efter blev George Harrison behandlet for kræft i struben, og det så umiddelbart ud til at være helbredt. Men i maj 2001 blev opereret for en kræftknude i den ene lunge, og kræften bredte sig, indtil Harrison døde den 29. november 2001, kun 58 år.
George Harrison var gift med fotomodellen Pattie Boyd fra 1966 til 1977, og derefter med mexicaneren Olivia Arias fra 1978, med hvem han fik sønnen Dhani.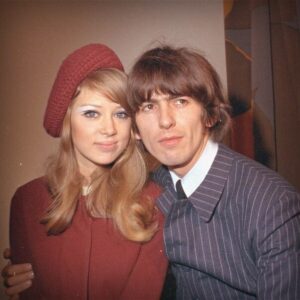 George Harrison med Pattie Boyd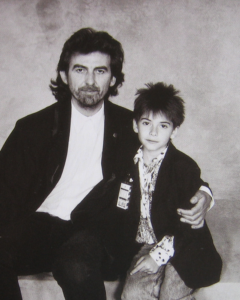 George med sønnen Dhani
Posthumt udsendtes albummet "Brainwashed" i 2002, der af flere anmeldere blev beskrevet som Harrisons bedste album siden "All Things Must Pass".