af Karsten Jørgensen
Skuespilleren Timothée Chalamet er udvalgt til at portrættere Bob Dylan i en ny film om kunstnerens forvandling fra folkesanger til rockstjerne i midten af 1960'erne.
Det centrale punkt i filmen er Dylans optræden på Newport Folk Festival 25. juli 1965, hvor han første gang satte strøm til sin guitar på en scene, akkompagneret af Al Kooper, Mike Bloomfield, Barry Goldberg, Jerome Arnold og Sam Lay, og lagde en bombe under det hidtidige billede af ham som folkemusiker og protestsanger. Fem dage tidligere havde han udgivet den legendariske single "Like A Rolling Stone".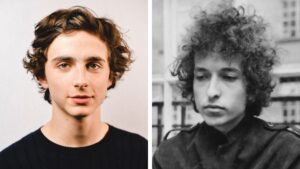 Timothée Chalamet og Bob Dylan
Filmens foreløbige titel er "Going Electric", og den instrueres af James Mangold, som tidligere har lavet filmen "I Walk The Line" om Johnny Cash (2005) og "Ford v. Ferrari", "Girl, Interrupted" og "Logan".
Filmen bliver angiveligt et officielt statement om den dramatiske periode i Dylans liv, idet Dylan selv arbejder sammen med Mangold, og Dylans mangeårige manager, Jeff Rosen, er en af filmens producere.
Den 24-årige Timothée Chalamet er på få år blevet en af Hollywoods mest populære skuespillere. Efter biroller i film som "Interstellar" og "Love The Coopers", avancerede han til en større rolle i "Call Me By Your Name" i 2017, som førte til en Oscar-nominering. Sidste år medvirkede han i det historiske drama "The King" og Woody Allen-filmen "A Rainy Day In New York". Helt aktuelt kan han ses i filmen "Little Women".
Bob Dylans liv har tidligere været emne for spillefilm, bl.a. i "I'm Not There" i 2007, hvor seks forskellige skuespillere portrætterede ham i forskellige tidsepoker: Christian Bale, Cate Blanchett, Marcus Carl Franklin, Richard Gere, Heath Ledger og Ben Wishaw.
Sidste år kom dokumentarfilmen "Rolling Thunder Revue" om Dylans turne af samme navn i 1975-76, instrueret af Martin Scorsese og udgivet via Netflix.
"Going Electric" er baseret på bogen "Dylan Goes Electric" af Elijah Wald, og drejebogen er skrevet af Jay Cocks. Filmen produceres af Searchlight, som også har sikret sig retten til at bruge Dylans musik i filmen.
"Going Electric" er den seneste i en stribe musikfilm, hvoraf de mest kendte er "Bohemian Rhapsody" om Queen og "Rocketman" om Elton John. I november meddeltes det, at en film om Michael Jacksons liv og karriere er sat i produktion, og en film om Elvis Presley, med fokus på hans forhold til manageren Colonel Parker, spillet af Tom Hanks, forventes at få premiere næste år.
Hvornår "Going Electric" får premiere er endnu uvist.