af Karsten Jørgensen
Det eneste 'rigtig' officielle live-album med The Beatles, "The Beatles At The Hollywood Bowl", som oprindelig udkom i 1977 og aldrig siden har været tilgængelig på cd, bliver 9. september 2016 genudsendt i udvidet og remixet udgave på cd med både ny titel og flere bonus-numre, og senere, den 18. november, også som dobbelt vinylplade. Ansvarlig for den forbedrede lyd er produceren Giles Martin, som er søn af The Beatles' oprindelige producer George Martin, samt lydmanden Sam Okell.
Den aktuelle anledning til genudgivelsen skal findes i en ny dokumentarfilm om The Beatles' tidlige år som turnerende orkester fra 1962 til 1966, "The Beatles: Eight Days A Week – The Touring Years", instrueret af Ron Howard, som har verdenspremiere i London den 15. september 2016.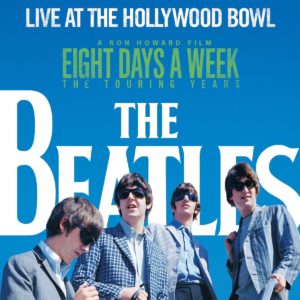 Cover på den nye udgivelse, ifølge Amazon
Oprindelig optog Capitol Records, selskabet som udsendte Beatles-pladerne i USA, gruppens første koncert på Hollywood Bowl den 23. august 1964, med henblik på at udsende en live-plade. Men i første omgang besluttede man imidlertid, at optagelserne lydmæssigt var for dårlige. Året efter, 29. og 30. august 1965, optog man igen to Beatles-koncerter på Hollywood Bowl, men desværre med samme skuffende resultat.
Optagelserne blev herefter lagt på hylden indtil 1971, hvor producer Phil Spector, som stod bag lyden på gruppens sidste album "Let It Be", fik overladt båndene med henblik på at få et album ud af dem. Det er uvist, om Spector overhovedet arbejdede på sagen eller om resultatet igen var utilfredsstillende, men fakta var, at optagelserne fra Hollywood Bowl igen blev lagt til side.
Først i 1977, da EMI opdagede, at et tysk pladeselskab Lingasong Records planlagde at udgive semi-legale optagelser fra The Beatles' engagement i Star Club i Hamborg i december 1962, kom der skub i arbejdet med at gøre Hollywood Bowl-båndene klar til udgivelse. George Martin arbejdede på højtryk med at gøre lyden acceptabel, og i april 1977 blev "The Beatles At The Hollywood Bowl" udsendt på LP og blev henholdsvis nr. 1 og nr. 2 på hitlisterne i England og USA. Albummet var på markedet i nogle år, indtil 1984, hvor det udgik af både EMI og Capitols katalog.
Den oprindelige vinyl-plade fra 1977
Som mange i de forløbne snart 40 år har påpeget, er berettigelsen for at udsende koncertoptagelserne på plade, både dengang og nu, udelukkende som historisk dokumentation. Musikalsk set er der ikke meget at komme efter, men da The Beatles altid har været en pengemaskine kan det alligevel undre, at "The Beatles At The Hollywood Bowl" som officiel udgivelse har været ude af cirkulation i så mange år.
Den nye udgave af albummet, som har fået den let ændrede titel "The Beatles: Live At The Hollywood Bowl", indeholder 17 sange i stedet for de oprindelige 13. Blandt de fire hidtil 'uudgivne' numre er "Baby's In Black" fra 30. august 1965, som imidlertid har været tilgængelig i tyve år, som B-side på Beatles-singlen "Real Love" fra 1996.
Trackliste på "The Beatles: Live At The Hollywood Bowl":
"Twist and Shout" [August 30, 1965]
"She's a Woman" [August 30, 1965]
"Dizzy Miss Lizzy" [August 30, 1965 / August 29, 1965 – one edit]
"Ticket to Ride" [August 29, 1965]
"Can't Buy Me Love" [August 30, 1965]
"Things We Said Today" [August 23, 1964]
"Roll Over Beethoven" [August 23, 1964]
"Boys" [August 23, 1964]
"A Hard Day's Night" [August 30, 1965]
"Help!" [August 29, 1965]
"All My Loving" [August 23, 1964]
"She Loves You" [August 23, 1964]
"Long Tall Sally" [August 23, 1964]
"You Can't Do That" [August 23, 1964 – hidtil uudgivet]
"I Want to Hold Your Hand" [August 23, 1964 – hidtil uudgivet]
"Everybody's Trying to Be My Baby" [August 30, 1965 – hidtil uudgivet]
"Baby's in Black" [August 30, 1965 – udsendt som B-side på singlen "Real Love"]