af Karsten Jørgensen
Den amerikanske film- og tv-producer Al Brodax, som var både producer og med-manuskriptforfatter til Beatles-tegnefilmen "Yellow Submarine", er død, 90 år.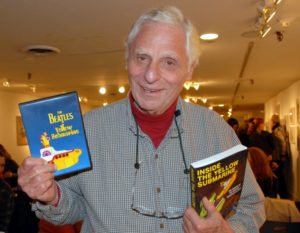 Al Brodax i 2010
Albert P. Brodax blev født i The Bronx, New York, den 14. februar 1926. Han meldte sig til militærtjeneste som 17-årig og deltog i 2. verdenskrig, hvor han blev såret. Senere fik han tildelt krigsmedaljen Purple Heart.
I 1950'erne arbejdede han for William Morris Agency med at udvikle ideer til fjernsynet, og fra 1960 var han ansat hos King Features Syndicate, hvor han skrev og producerede mere end 500 episoder af tegnefilmsserierne "Popeye", "Krazy Kat" og "Barney Google". Fra midten af 1960'erne var han hjernen bag 39 episoder af de legendariske "The Beatles" tegnefilm, som blev vist i amerikansk tv, og som senere førte til, at han fik lov til at lave en tegnefilm i fuld længde over Beatles-sangen "Yellow Submarine".
I 1968 producerede han tegnefilmen "Yellow Submarine", som han også var medforfatter til. Det var en eventyrtegnefilm, som brugte symbolikken fra adskillige tidligere udsendte og enkelte nykomponerede Beatles-sange. The Beatles selv var ikke særlig begejstrede for projektet og samarbejdede kun modvilligt med Brodax, som til gengæld var skuffet over beatlerne og beskrev Ringo som "en fordrukken bondeknold" og Paul som "en selvoptaget Karl Smart".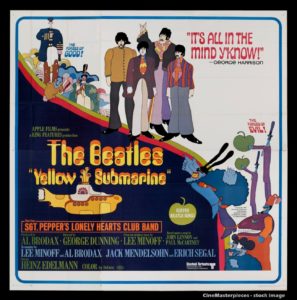 Plakat for tegnefilmen 'Yellow Submarine'
Filmen, som blev udsendt af United Artists, vandt sidenhen mere end 30 forskellige priser, bl.a. New York Film Critics Circle Award i 1969, og Brodax udgav i 2004 erindringsbogen "Up Periscope Yellow: The Making Of The Beatles' Yellow Submarine" om sine oplevelser.
I 1970'erne arbejdede Al Brodax som animations-konsulent for tv-stationen ABC og senere, i det meste af 1980'erne var han tilknyttet Marvel Comics.
Al Brodax døde i Danbury den 24. november, og efterlader sig hustruen Joan, tre børn og seks børnebørn.