af Karsten Jørgensen
Siden september 2015 har i alt ni forslag til nye LEGO-produkter været under overvejelse, og nu har beslutningstagerne hos LEGO Ideas – firmaets idé-forum på internettet – truffet deres valg.
To af de ni forslag bliver sat i produktion senere i år, og det ene er 'Yellow Submarine', en miniature-model i Lego-klodser af undervandsbåden fra den berømte Beatles-tegnefilm. Det andet godkendte projekt er en model af Apollo 11-rumraketten.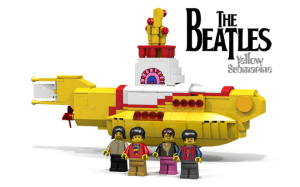 Undervandsbåden er designet af den canadiske amatørmusiker Kevin Szeto, og sættet kommer til at indeholde i alt 409 klodser og smådele.
LEGO Ideas blev oprettet i 2008 med henblik på at folk kunne indsende forslag til nye LEGO-produkter. Før et forslag overhovedet indstilles til afstemning, skal mindst 10.000 brugere stemme på det. Herefter kandiderer ni forskellige produkter, tre gange årligt, til den endelige udvælgelse, hvor to produkter går videre og bliver sat i produktion.
Designeren af de udvalgte produkter modtager fem gratis modeller, samt 1 procent af indtjeningen i royalty.