af Karsten Jørgensen
Fra 1973 til begyndelsen af 1975 var John Lennon og Yoko Ono separeret, og Lennon boede sammen med parrets kinesisk-fødte assistent, May Pang.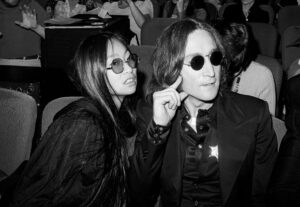 May Pang med John Lennon
Denne tumultariske periode, hvor Lennon ofte slog sig løs med notoriske drukkenbolte som Harry Nilsson og The Who-trommeslageren Keith Moon, fik nye bekendtskaber som Elton John og David Bowie, og glimtvis blev genforenet med Ringo Starr og Paul McCartney, er gået over i Beatles-historien under navnet "the lost weekend".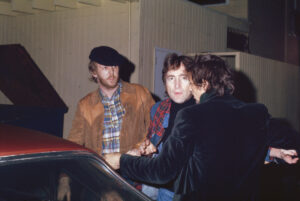 John Lennon i midten, Harry Nilsson til venstre
May Pangs historie som John Lennons elskerinde, er blevet fortalt og genfortalt adskillige gange i både interviews, artikler og i May Pangs egne selvbiografier, og i dag, den 10. juni, er der premiere på en ny dokumentarfilm om perioden, "The Lost Weekend: A Love Story", som vises på den årlige Tribeca Film Festival i New York.
Filmen er instrueret af Eve Brandstein, Richard Kaufman og Stuart Samuels, og May Pang er den primære fortæller, krydret med interviews med bl.a. Lennons søn Julian, sangeren Alice Cooper og trommeslageren Jim Keltner.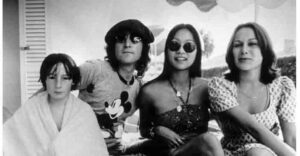 John Lennon og May Pang i midten, Julian Lennon til venstre
Efter "the lost weekend" sluttede i begyndelsen af 1975, blev Lennon genforenet med Yoko Ono, og senere samme år fik de sønnen Sean. May Pang blev senere gift med pladeproduceren Tony Visconti i 1989. De fik to børn sammen, inden de blev skilt i 2000.