af Karsten Jørgensen
Den 5. oktober, kun fire dage før John Lennon ville være fyldt 78 år, udsender Geffen/Universal Music boks-sættet "Imagine – The Ultimate Collection", som består af fire cd'er og to Blu-ray, plus en bog på 120 sider.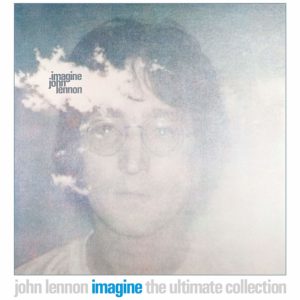 Boksen, der indeholder godt 140 sange, er godkendt af Yoko Ono, som også har bistået med kreativ vejledning på projektet.
"Imagine", som i 1971 gav Lennon hans solokarrieres største hit, er blevet remixet (af Paul Hicks) og remastered til lejligheden, og får, også i oktober, selskab af den oprindelige "Imagine"-film fra 1971, med ekstra materiale, samt dokumentarfilmen "Gimme Some Truth: The Making of John Lennon's Imagine" fra 2000, som udsendes af Eagle Vision. Endvidere udkommer bogen "Imagine John Yoko" på selve Lennons fødselsdag, den 9. oktober.
"Det er første gang, at dette ikoniske album bliver præsenteret så komplet", skriver pladeselskabet i en pressemeddelelse. "Det er en forsinket og passende hyldest til en af de vigtigste sange, album og kreative samarbejder i det 20. århundrede. John og Yokos budskab er ligeså universelt og relevant i dag, som dengang albummet blev lavet. Den nye udgave tager lytterne med på en fantastisk, personlig rejse gennem hele sangskrivnings- og indspilnings-processen – fra de første demosessions i Lennons studie på Tittenhurst Park og videre til den endelige produktion i samarbejde med Phil Spector – og er en bemærkelsesværdig dokumentation af John Lennon og Yoko Onos liv, og i deres egne ord".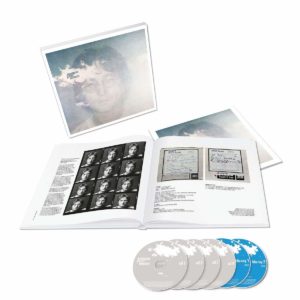 Trackliste:
Disc 1
1. Imagine (Ultimate Mix)
2. Crippled Inside (Ultimate Mix)
3. Jealous Guy (Ultimate Mix)
4. It's So Hard (Ultimate Mix)
5. I Don't Wanna Be A Soldier Mama I Don't Wanna Die (Ultimate Mix)
6. Gimme Some Truth (Ultimate Mix)
7. Oh My Love (Ultimate Mix)
8. How Do You Sleep? (Ultimate Mix)
9. How? (Ultimate Mix)
10. Oh Yoko! (Ultimate Mix)
11. Power To The People (Ultimate Mix)
12. Well (Baby Please Don't Go) (Ultimate Mix)
13. God Save Us (Ultimate Mix)
14. Do The Oz (Ultimate Mix)
15. God Save Oz (Ultimate Mix)
16. Happy Xmas (War Is Over) (Ultimate Mix)
Disc 2
1. Imagine (Elements Mix)
2. Jealous Guy (Elements Mix)
3. Oh My Love (Elements Mix)
4. How? (Elements Mix)
5. Imagine (Demo Version)
6. Imagine (Take 1 Version)
7. Crippled Inside (Take 3)
8. Crippled Inside (Take 6/Alternate Guitar Solo)
9. Jealous Guy (Take 9)
10. It's So Hard (Take 6)
11. I Don't Wanna Be A Soldier Mama I Don't Wanna Die (Take 11)
12. Gimme Some Truth (Take 4)
13. Oh My Love (Take 6)
14. How Do You Sleep? (Takes 1 & 2)
15. How? (Take 31)
16. Oh Yoko! (Live At The Sheraton Hotel, Bahamas/ 1969)
17. Power To The People (Take 7)
18. God Save Us (Demo)
19. Do The Oz (Take 3)
20. Happy Xmas (War Is Over) (Alternate Mix)
Disc 3
1. Imagine (Take 10/ Raw Studio Mix)
2. Crippled Inside (Take 6/ Raw Studio Mix)
3. Jealous Guy (Take 29/ Raw Studio Mix)
4. It's So Hard (Take 11/ Raw Studio Mix)
5. I Don't Wanna Be A Soldier Mama I Don't Wanna Die (Take 4 Extended/ Raw Studio Mix)
6. Gimme Some Truth (Take 5/ Extended/ Raw Studio Mix)
7. Oh My Love (Take 20/ Raw Studio Mix)
8. How Do You Sleep? (Take 11/ Extended/ Raw Studio Mix)
9. How? (Take 40/ Raw Studio Mix)
10. Oh Yoko! (Take 1/ Extended/ Raw Studio Mix)
11. Imagine (Take 1/ Raw Studio Mix)
12. Jealous Guy (Take 11/ Raw Studio Mix)
13. I Don't Wanna Be A Soldier Mama I Don't Wanna Die (Take 21/ Raw Studio Mix)
14. How Do You Sleep? (Take 1/ Raw Studio Mix)
15. How Do You Sleep? (Takes 5 & 6/ Raw Studio Mix)
Disc 4
1. Imagine (Evolution Documentary/ Mono)
2. Crippled Inside (Evolution Documentary/ Mono)
3. Jealous Guy (Evolution Documentary/ Mono)
4. It's So Hard (Evolution Documentary/ Mono)
5. I Don't Wanna Be A Soldier Mama I Don't Wanna Die (Evolution Documentary/ Mono)
6. Gimme Some Truth (Evolution Documentary/ Mono)
7. Oh My Love (Evolution Documentary/ Mono)
8. How Do You Sleep? (Evolution Documentary/ Mono)
9. How? (Evolution Documentary/ Mono)
10. Oh Yoko! (Evolution Documentary/ Mono)
Disc 5
1. Imagine (Ultimate Remix/ 5.1 Surround Sound)
2. Crippled Inside (Ultimate Remix/ 5.1 Surround Sound)
3. Jealous Guy (Ultimate Remix/ 5.1 Surround Sound)
4. It's So Hard (Ultimate Remix/ 5.1 Surround Sound)
5. I Don't Wanna Be A Soldier Mama I Don't Wanna Die (Ultimate Remix/ 5.1 Surround Sound)
6. Gimme Some Truth (Ultimate Remix/ 5.1 Surround Sound)
7. Oh My Love (Ultimate Remix/ 5.1 Surround Sound)
8. How Do You Sleep? (Ultimate Remix/ 5.1 Surround Sound)
9. How? (Ultimate Remix/ 5.1 Surround Sound)
10. Oh Yoko! (Ultimate Remix/ 5.1 Surround Sound)
11. Power To The People (Ultimate Remix/ 5.1 Surround Sound)
12. Well (Baby Please Don't Go) (Ultimate Remix/ 5.1 Surround Sound)
13. God Save Us (Ultimate Remix/ 5.1 Surround Sound)
14. Do The Oz (Ultimate Remix/ 5.1 Surround Sound)
15. God Save Oz (Ultimate Remix/ 5.1 Surround Sound)
16. Happy Xmas (War Is Over) (Ultimate Remix/ 5.1 Surround Sound)
17. Imagine (Remastered 2018/ Quadrasonic Mix)
18. Crippled Inside (Remastered 2018/ Quadrasonic Mix)
19. Jealous Guy (Remastered 2018/ Quadrasonic Mix)
20. It's So Hard (Remastered 2018/ Quadrasonic Mix)
21. I Don't Wanna Be A Soldier Mama I Don't Wanna Die (Remastered 2018/ Quadrasonic Mix)
22. Gimme Some Truth (Remastered 2018/ Quadrasonic Mix)
23. Oh My Love (Remastered 2018/ Quadrasonic Mix)
24. How Do You Sleep? (Remastered 2018/ Quadrasonic Mix)
25. How? (Remastered 2018/ Quadrasonic Mix)
26. Oh Yoko! (Remastered 2018/ Quadrasonic Mix)
27. Imagine (Demo/ 5.1 Surround Sound)
28. Imagine (Take 1/ 5.1 Surround Sound)
29. Crippled Inside (Take 3/ 5.1 Surround Sound)
30. Crippled Inside (Take 6/ Alternate Guitar Solo/ 5.1 Surround Sound)
31. Jealous Guy (Take 9/ 5.1 Surround Sound)
32. It's So Hard (Take 6/ 5.1 Surround Sound)
33. I Don't Wanna Be A Soldier Mama I Don't Wanna Die (Take 11/ 5.1 Surround Sound)
34. Gimme Some Truth (Take 4/ 5.1 Surround Sound)
35. Oh My Love (Take 6/ 5.1 Surround Sound)
36. How Do You Sleep? (Takes 1 & 2/ 5.1 Surround Sound)
37. How? (Take 31/ 5.1 Surround Sound)
38. Oh Yoko! (Live At The Sheraton Hotel Bahamas/ 1969/ 5.1 Surround Sound)
39. Power To The People (Take 7/ 5.1 Surround Sound)
40. God Save Us (Demo/ 5.1 Surround Sound)
41. Do The Oz (Take 3/ 5.1 Surround Sound)
42. Happy Xmas (War Is Over) (Alternate Mix/ 5.1 Surround Sound)
Disc 6
1. Imagine (Take 10/ Raw Studio Mix/ 5.1 Surround Sound)
2. Crippled Inside (Take 6/ Raw Studio Mix/ 5.1 Surround Sound)
3. Jealous Guy (Take 29/ 5.1 Surround Sound)
4. It's So Hard (Take 11/ 5.1 Surround Sound)
5. I Don't Wanna Be A Soldier Mama I Don't Wanna Die (Take 4/ Extended/ 5.1 Surround Sound)
6. Gimme Some Truth (Take 4/ Extended/ 5.1 Surround Sound)
7. Oh My Love (Take 20/ 5.1 Surround Sound)
8. How Do You Sleep? (Take 11/ Extended/ 5.1 Surround Sound)
9. How? (Take 40/ 5.1 Surround Sound)
10. Oh Yoko! (Take 1/ Extended/ 5.1 Surround Sound)
11. Imagine (Take 1/ Raw Studio Mix)
12. Crippled Inside (Take 2/ Raw Studio Mix/ 5.1 Surround Sound)
13. How? (Take 40/ Alternate Vocal/ Raw Studio Mix/ 5.1 Surround Sound)
14. How? (Take 7 – 10/ Raw Studio Mix/ 5.1 Surround Sound)
15. How Do You Sleep? (Takes 5 & 6/ Raw Studio Mix/ 5.1 Surround Sound)
16. How Do You Sleep? (Take 1/ Raw Studio Mix/ 5.1 Surround Sound)
17. I Don't Wanna Be A Soldier Mama I Don't Wanna Die (Take 21/ Raw Studio Mix/ 5.1 Surround Sound)
18. Jealous Guy (Take 11/ Raw Studio Mix/ 5.1 Surround Sound)
19. Crippled Inside (Take 6/ Alternate Guitar Solo/ 5.1 Surround Sound)
20. Crippled Inside (Take 2/ Raw Studio Mix/ 5.1 Surround Sound)
21. Imagine (Take 1/ 5.1 Surround Sound)
22. Oh Yoko! (Take 1/ Alternate Vocal/ Raw Studio Mix/ 5.1 Surround Sound)
23. Imagine (Elements Mix/ 5.1 Surround Sound)
24. How? (Elements Mix/ 5.1 Surround Sound)
25. Jealous Guy (Elements Mix/ 5.1 Surround Sound)
26. Oh My Love (Elements Mix/ 5.1 Surround Sound)
27. Imagine (Evolution Documentary/Mono)
28. Crippled Inside (Evolution Documentary/ Mono)
29. Jealous Guy (Evolution Documentary/Mono)
30. It's So Hard (Evolution Documentary/Mono)
31. I Don't Wanna Be A Soldier Mama I Don't Wanna Die (Evolution Documentary/Mono)
32. Gimme Some Truth (Evolution Documentary/Mono)
33. Oh My Love (Evolution Documentary/Mono)
34. How Do You Sleep? (Evolution Documentary/Mono)
35. How? (Evolution Documentary/Mono)
36. Oh Yoko! (Evolution Documentary/Mono)
37. Power To The People (Evolution Documentary/Mono)
38. Well (Baby Please Don't Go) (Evolution Documentary/Mono)
39. God Save Us/Oz (Evolution Documentary/Mono)
40. Do The Oz (Evolution Documentary/Mono)
41. Happy Xmas (War Is Over) (Evolution Documentary/Mono)
42. Tittenhurst Park (Evolution Documentary/Mono)
43. Imagine John & Yoko (The Elliot Mintz Interviews/ Mono)