af Karsten Jørgensen
Neil Young har netop annonceret musikprogrammet ved årets Bridge School støttekoncerter, som traditionen tro finder sted på Shoreline Amphitheater i Mountain View, Californien, den 24. og 25. oktober.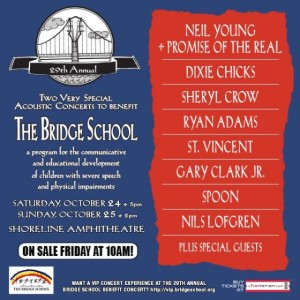 Blandt årets nye navne er countrypigegruppen The Dixie Chicks, mens både Sheryl Crow og Ryan Adams er gengangere fra tidligere år. Guitaristen Nils Lofgren er en sand veteran, der ikke alene optrådte ved den første Bridge School-koncert i 1986 og sidenhen i både 1988 og 1991, men også medvirkede på så tidlige Neil Young-albums som "After The Gold Rush" og "Tonight's The Night". Gary Clark Jr., St. Vincent og Spoon udgør resten af programmet, sammen med, naturligvis, Neil Young 'himself', som har optrådt hvert eneste år og ved de aktuelle koncerter går på scenen med Promise Of The Real – backinggruppen på hans seneste album "The Monsanto Years".
Bridge School – en specialskole for børn med både tale- og fysiske handicap, som er kendt for at bruge alternative behandlingsmetoder – blev grundlagt i 1986 i den lille californiske by Hillsborough på initiativ af Neils daværende kone, Pegi Young, og lige siden har der hvert år – undtagen 1987 – været afholdt støttekoncerter i Mountain View, som ligger et stenkast fra Hillsborough.
Gennem årene har arrangementet og den gode sag formået at tiltrække stort set alle, som er noget ved musikken – fra Bruce Springsteen og Tom Petty ved den første koncert i 1986, til Bob Dylan, Paul McCartney, Elvis Costello, Elton John, Simon & Garfunkel, Lou Reed, Brian Wilson og Neils gamle grupper Buffalo Springfield, Crosby, Stills, Nash & Young og Crazy Horse.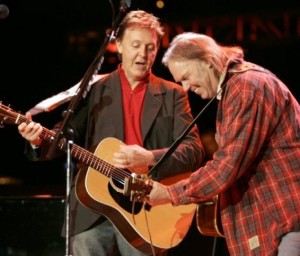 Paul McCartney med Neil Young, Bridge School-koncert, 2004, hvor de bl.a. spillede "Only Love Can Break Your Heart"
I lørdags spillede Neil ved den 30. Farm Aid-koncert i Chicago – efter sigende i fin form – og præsenterede en helt ny sang, "I Won't Quit", i et kort sæt med kun syv sange, akkompagneret af Promise Of The Real. Ved samme optræden spillede han også den klassiske "Alabama" (fra "Harvest") for første gang siden 1977.