af Karsten Jørgensen
En demo-indspilning med Paul McCartney er fundet blandt sangerinden Cilla Blacks efterladte ejendele. Cilla døde sidste år efter et fald i sin spanske villa, og under en oprydning af hendes hjem fandt arvingerne fornylig en kuvert med den sjældne demo-indspilning, som har været forsvundet i 52 år.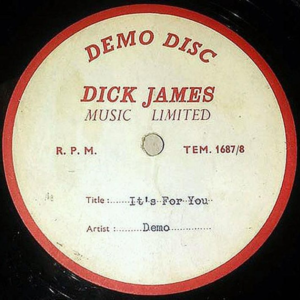 Sangen "It's For You" blev indspillet af Cilla Black i Abbey Road-studiet i London i juli 1964, produceret af George Martin, og senere udsendt på single fik den en placering på den engelske hitliste som nr. 7.
"It's For You" er officielt krediteret til både John Lennon og Paul McCartney, men som tilfældet er med de fleste Beatles-sange, der er skrevet af enten KUN Lennon eller KUN McCartney, er "It's For You" en ren McCartney-komposition uden input fra Lennon.
"It's For You" blev aldrig indspillet af The Beatles selv, men foræret væk til Cilla Black. Det samme skete med mange andre Lennon- og McCartney-kompositioner som "Bad To Me", "A World Without Love" og "Love Of The Loved" fra gruppens tidlige år, hvor Lennon og McCartney var så produktive som sangskrivere, at de sagtens kunne tillade sig at forære hits væk til andre kunstnere som Billy J. Kramer, Peter & Gordon, The Applejacks og The Fourmost.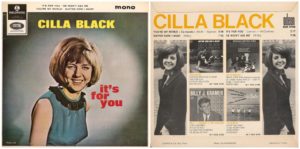 "It's For You" blev også udsendt på en engelsk EP i 1964
Demoen med "It's For You", som McCartney indspillede den 3. juni 1964, bliver udbudt til salg ved en auktion på Liverpool Institute for Performing Arts den 27. august 2016 og forventes at indbringe mellem 15.000 og 20.000 £.